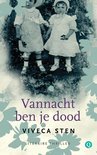 Vannacht ben je dood
Vivica Sten

Iemand wordt door verdrinking om het leven gebracht, maar dat dit gebeuren te maken heeft met de zelfmoord van een jonge student, Marcus Nielsen, daar hebben de speurders aanvankelijk geen weet van.

Margit Grankvist en Thomas Andreasson onderzoeken de zaak van de jongeman met het idee dat dit snel afgerond zal zijn. Maar als de moeder aandringt, en zijn onafscheidelijke laptop niet gevonden wordt, wordt Thomas argwanend, en gaat toch maar op verder onderzoek uit. Met wie heeft Marcus bijvoorbeeld telefonisch contact gehad? Waar was hij mee bezig?
Het leidt hem naar gebeurtenissen van dertig jaar geleden. In Zweden is er - nog steeds - een elitekorps, de kustjagers genaamd. Die waren gelegerd op Korsö, vlakbij het eiland Sandhamn.

Thomas ontdekt wat de lezer intussen al in cursiefjes meeleest: de training was niet gewoon hard, die was meedogenloos. De sergeant van dienst was niet alleen maar er op uit sterke en kundige soldaten op te leiden, hij was ongewoon wreed. Wat er in die tijd gebeurde heeft nog altijd gevolgen. Want de ene na de andere oud-strijder wordt gevonden, na ogenschijnlijk zelfmoord gepleegd te hebben. Maar het is moord. Thomas moet er achter zien te komen welke personen er in dat bepaalde groepje zaten, wat er gebeurd is. Is een van die mensen de dader? Waar slaat die groene zeep op, die ze steeds bij de slachtoffers vinden?
Het blijkt een complexe zaak.
Daarnaast lezen we mee over Thomas en zijn persoonlijke perikelen; over ene Nora die regelmatig op Sandhamn is omdat ze daar een huis bezit.

En dan blijkt maar weer dat je een thriller heden ten dage niet meer zomaar kunt lezen. Je moet van te voren uitzoeken of het misschien een boek is uit een serie over speurders. Als dat zo is, dan kun je zeker in het geval van Vivica Sten er van uit gaan dat als je een derde of vierde boek als eerste pakt, je dingen 'mist'. Ik heb me regelmatig af zitten vragen wat die Nora er mee te maken had en er op zitten wachten dat haar verhaallijn op de een of andere manier bij het geheel gevoegd zou worden. Maar dat was niet het geval. Haar verhaallijn bleef naast romantisch geneuzel en scheidingsperikelen helemaal los van de zaak. O ja, ze mocht wat informatie vragen.
Dit kan ik nog wel begrijpen en dat is op te lossen door dus met het eerste boek te beginnen. Maar mij hinderde het. Terwijl de plot heel goed gevonden is en spannend is, nou ja, tot bijna het einde dan.
Met gelukkig een kaartje voor in het boek!!

Viveca Sten (1959) is juriste en woont met haar man en drie kinderen in Stockholm. Haar familie brengt al sinds 1917 de zomers door op Sandhamn.

ISBN 9789021450247 | paperback | 392 pagina's | Uitgeverij Q | december 2013
Vertaald uit het Zweeds door Tine P.G. Jorissen-Wedzinga
© Marjo, 10 augustus 2014
Lees de reacties op het forum en/of reageer, klik HIER
---