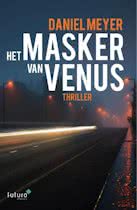 Het masker van Venus
Daniël Meyer

Het boek begint met een korte inhoud van 'De man van Venus', het boek dat vooraf gaat aan 'Het masker van Venus'. Naar blijkt is het ook handig om dit boek eerst gelezen te hebben!

De ik-figuur heet Daan Meyer (!). Als zijn vriend Leo vermoord wordt, houdt Daan zoals beloofd diens vriendin Else in de gaten. Leo wist dat hij gevaar liep: Behalve vissenvoer ontwikkelde hij ook een nieuwe cannabisvariant, hetgeen natuurlijk niet goed valt bij de hashhandelaren. Leo heeft Daan alle informatie gegeven, en daardoor loopt ook Daan gevaar. Dat hij ook nog zelf wil ontdekken wie zijn vriend vermoord heeft, levert hem geduchte vijanden op. Beter was hij uit de business gestapt, maar in plaats daarvan is hij naar Shimanto vertrokken, in het zuiden van Japan, waar de fabriek staat. Met Sophie, zijn nieuwe vriendin, en Mark, zijn vriend probeert hij de boel draaiend te houden.

Als dan in deel twee het verhaal verder gaat, blijkt er van rust geen sprake te zijn. Het begint er mee dat er een drone over de fabriek vliegt, van onbekende origine. Als Mark op onderzoek uit gaat wordt hij overvallen en belandt in het ziekenhuis. En Sophie blijkt zwanger. De politie wil ook weten wat er precies speelt. Zij weten dan nog niets van de hashlijn, al zijn zij ook niet gek: al die commotie om vissenvoer? En dan is er ook nog de Japanse maffia…

'De fabriek groeit, we worden bedreigd. De beveiliging is opgeschaald. We komen op een ander niveau, want we willen door. Jij wilt door, Théréza wil door en ik wil door. Maar het krachtenspel is veranderd. Met de drone die boven ons vloog, werd onze wereld anders. Ik weet niet hoe, maar ik voel dat er nu meer speelt dan alleen de oorlog tussen Kobe en Tokio.'

Een actiethriller rondom de handel in cannabis, of het nu als verdovend middel of als medicijn bedoeld wordt. Het is een harde nietsontziende wereld, en dat had Daan toch ietwat verkeerd ingeschat. In vrij kortaffe stijl, met korte hoofdstukken vliegt de lezer door het verhaal, en omdat het erg spannend is, lees je vlot door tot de verrassende ontknoping.

Daniël Meyer is dan wel dezelfde naam als de hoofdpersoon van dot boek, in feite heet de schrijver Wouter ter Reehorst. Dat is best verwarrend. Maar dat doet natuurlijk niets af aan het feit dat het een lekkere actiethriller is.

ISBN 89492221247| paperback | 247 pagina's | Uitgeverij Futuro| december 2016
© Marjo, 4 augustus 2017
Lees de reacties op het forum en/of reageer, klik HIER