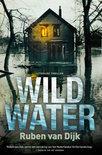 Wild water
Ruben van Dijk



'Overstroming van het gebied binnen Dijkring 14 is zeer onwaarschijnlijk, maar heeft, als zij zich zou voordoen, catastrofale gevolgen voor Nederland.'
(mededeling van het kabinet aan de Tweede Kamer in de Voortgangsbrief Nationale Veiligheid 2008)

Ruben van Dijk heeft al eerder boeken geschreven met als thema de klimaatverandering: volgens hem is men er van op de hoogte dat het niet goed gaat, maar economische belangen zijn er de oorzaak van dat er van alles gebeurt achter de schermen, waarbij de bescherming van de burger niet het belangrijkste is. Ook in dit boek gaat het over klimaatverandering: het is hoogtij, de zeespiegel stijgt en blijft stijgen. Of is er toch iets anders aan de hand?

Nog net dertiger, directielid, getrouwde vrouw, en erg aantrekkelijk, dat is Anne. Wessel, begin twintig, knap en charmant, komt als systeembeheerder op kantoor werken en begint om haar heen te draaien. Anne neemt het initiatief op die stormachtige februaridag (windstoten tot 180 km/uur), als ze Wessel ziet worstelen met zijn fiets. Hij stapt in, in haar opvallende sportwagen en wijst de weg: naar Katwijk. Maar als ze hun behoeftes bevredigd hebben, blijken ze niet meer weg te kunnen: de hele omgeving staat onder water, dat nog verder stijgt. Wessel bouwt heel kundig een vlot en zo laten ze zich wegdrijven: naar de auto. Er zal toch nog wel droge grond zijn?
Het is het scenario zoals we dat kennen van 1953: allerlei voorwerpen die ronddrijven, een koe die wanhopig probeert op het vlot te komen, de huizen die ze tegenkomen zijn verlaten. Tenslotte weet Wessel een bovenwoning te bereiken, ook leeg. Ze maken het zich zo makkelijk mogelijk met de kleding die ze vinden. Er is geen elektriciteit, geen verwarming, maar wel eten en drinken. Anne wordt ziek. Ze moeten hulp zien te krijgen.
In de tussentijd volgen we ook de bezigheden van helikopterpiloot Patrick van Grondel. Van hem weten we al bij zijn eerste optreden dat hij de dood zal vinden. Hij wordt er in de storm op uit gestuurd om foto's te maken, speciaal voor de AIVD, die op zoek is naar de sportwagen van Anne. Bij de regering denkt men namelijk dat de dijken niet zomaar doorgebroken zijn, maar dat er sprake is van een terroristische aanslag die verband houdt met een Bosnisch-Servische gevangene die in Scheveningen zit.
Terwijl het water maar blijft stijgen - Leiden, de streek rond Aalsmeer en delen van Delfland zijn al ondergelopen - en er vele doden vallen, concentreert het verhaal zich op enerzijds Anne en Wessel, anderzijds op de piloot en de regering. Is er inderdaad sprake van een aanslag?
Of zijn de dijken niet goed onderhouden? Wat als er nog meer water komt, en behalve de Haarlemmermeer ook Rotterdam bedreigd wordt? Wat is de rol van Wessel: onschuldige vrouwenverleider of gewetenloze terrorist?

Een spannende thriller gebaseerd op iets wat niet eens zo heel buitenissig is. Het zou zo maar kunnen gebeuren! Persoonlijk ken ik de beschreven omgeving niet, maar als de lezer daar toevallig zou wonen, dan is hij voortaan beducht voor stormachtige dagen.
De wateroverlast zelf is heel plastisch beschreven, vooral die scene met de koe, de rillingen lopen over je lijf. Als de lezer geen problemen heeft met een traag begin, en onbeantwoorde vragen, dan heeft hij hier een prima boek aan!

ISBN 9789022999219 | Paperback | 280 pagina's| Bruna| januari 2012
© Marjo, 10 februari 2012
Lees de reacties op het forum en/of reageer, klik HIER