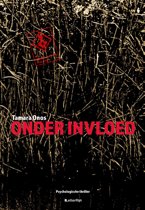 Onder invloed
Tamara Onos

Renske Nijland stuit tijdens haar hardlooprondje door de Havikerwaard (bij Ellecom in Gelderland) op een visser, die vreemd doet. Als ze vraagt of hij hulp nodig heeft, wijst hij naar de slootkant. Daar vindt Renske het lichaam van een man. Omdat ze niet weet of hij bewusteloos of dood is, probeert ze de man die ze herkend heeft als een goede kennis, te reanimeren. Tevergeefs hoort ze later.

De politie doet de zaak af als verdronken onder invloed. Renske moet toegeven dat beide mannen naar drank stonken, maar omdat ze er van overtuigd is dat Henk, de overledene, niet dronk, gelooft ze er niets van. Bovendien was ze zelf onwel geworden op de bewuste plek en vond ze er later een dode reiger.
Voor de politie, in de persoon van Marcel, een ex-vriend van Renske, en Sara, is de zaak afgedaan. Zij vinden haar maar vervelend als ze blijft aandringen op verder onderzoek.

Maar dat is niet zomaar: Renske die werkzaam is als Hogere Veiligheidskundige en gespecialiseerd is in gevaarlijke stoffen, is erg op haar hoede om niet nog eens een fout te maken. In het verleden was ze betrokken bij een overlijden van een kind. Ook Marcel was daarbij.
Hij heeft eveneens een goede reden om geen fouten te maken, hij is er op uit om overgeplaatst te worden naar de recherche. Ook Sara solliciteert naar die plek.

Intussen raakt de zoon van Renske, Stijn, op school in de problemen. Hij haalt hoge cijfers, maar is een onzekere puber. De populairste jongen op school, Jeffrey, maakt daar handig gebruik van. Jeffrey woont met zijn stiefbroer Klaas op een boerderij. Hij heeft helemaal geen zin in school, maar Klaas wil dat hij zijn diploma haalt. En hij weet Stijn zo ver te krijgen dat hij helpt. Wat begint met onschuldige bijles, ontaardt in chantage, waarbij Jeffrey slinks gebruik maakt van Stijns zwakheid.

Dan wordt er een lijk gevonden in de buurt van een wijngaard, niet ver van de Havikerwaard. Marcel en Sara krijgen allebei de kans om mee te lopen met de recherche die het onderzoek verricht. Het lijkt een afrekening te zijn, verband houdend met drugs.

Intussen heeft Renske zich vastgebeten in haar eigen onderzoek, ze denkt aan een illegale giflozing in de buurt van waar ze de vissers aantrof. Ze werkt een lijstje af van mogelijke bronnen, en stuit daarbij op de rechercheurs, Marcel en Sara dus, die haar heel vervelend vinden.

Lijken aanvankelijk de wegen van Renske en Marcel en van Jeffrey en Stijn elkaar niet te kruisen maar dat verandert natuurlijk. In een meeslepende stijl worden de verhaallijnen aaneengesmeed, waarbij de personage goed uitgewerkt neergezet worden. Het zijn actuele thema's waar Tamara Onos over schrijft: drugs en illegale lozingen. Ook de keuze om de hoofdpersoon in haar eentje de zorg te laten hebben over twee pubers is een goede: je kan er veel kanten mee op.

Aan het begin van het verhaal vind je een plattegrond, zodat je precies kan volgen hoe alles in elkaar zit. Met vlotte dialogen en op de juiste momenten een versnelling in de schrijfstijl is de spanningsboog zodanig dat je het boek meteen uit wil lezen en dat je uitkijkt naar een vervolg.

Tamara Onos (1972) is arboprofessional. Vandaar het beroep van de hoofdpersoon in dit debuut.

ISBN 9789491875786 | paperback | 210 pagina's | Uitgeverij Letterrijn | februari 2019
© Marjo, 24 maart 2019

Lees de reacties op het forum en/of reageer, klik HIER