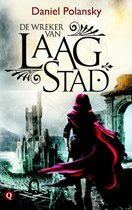 De wreker van Laagstad
Daniel Polansky

Na de Grote Oorlog heeft Warden zijn leven als soldaat voor dat van een drugsdealer verruild. Hij heeft te veel meegemaakt om zich te schamen voor zijn criminele beroep. Zijn schuldgevoel heeft hij al lang geleden aan de wilgen gehangen. Het leven in Laagstad is nu eenmaal hard. Wie in dit povere gedeelte van Rigus, de hoofdstad van de Dertien Landen, terechtkomt, moet er simpelweg het beste van maken.

De drugshandel is geen baan waar je slapend rijk van wordt. Slapen doet Warden sowieso altijd maar half. Waakzaamheid is van een onmetelijk belang in Laagstad. Onoplettendheid kan zomaar tot de dood leiden. Warden is altijd op zijn hoede. Concurrenten zijn vijanden. Daarnaast tiert corruptie welig in Laagstad. Iedereen probeert beter te worden van iedereen. Toch zijn er ook nog wat goede mensen in het duistere stadsdeel te vinden. Gelukkig is Warden erin geslaagd een aantal van deze prettige lieden aan zich te binden. Misschien is hij niet zo slecht en meedogenloos als hij zelf denkt.

Warden heeft tijdens zijn woelige leven al heel wat leed aanschouwd. Niet alleen de Grote Oorlog maar ook een pestepidemie heeft vele levens opgeëist. Door deze gruwelijke ziekte heeft ook Warden geen ouders meer. Gelukkig is Magister Kraanvogel erin geslaagd de ziekte een halt toe te roepen. Met zijn spreuken beschermt hij het volk nu tegen de ziekte. Warden draagt Kraanvogel een warm hart toe. De Magister nam hem onder zijn hoede toen hij als een verweesde straatjongen over straat zwierf. Kraanvogel werd zijn beschermer. Zijn mentor. Toch is Warden nu een drugsdealer, iets wat de Kraanvogel beslist niet toejuicht.

Wanneer Warden op het lijk van een kind stuit, smelt zijn meedogenloosheid als sneeuw voor de zon. Hoewel Warden liever niet de aandacht van de sterke arm der wet trekt, gaat hij toch op onderzoek uit. Hij kan het simpelweg niet verkroppen dat degene die deze vreselijke daad op zijn geweten heeft, ongestraft rondloopt. Zijn neus leidt hem letterlijk naar de dader maar wanneer deze voor zijn ogen door een gruwelijk wezen een onvoorstelbaar pijnlijke dood sterft, beseft Warden dat er meer aan de hand is. Veel meer.

Laagstad wordt door een grote verscheidenheid aan volken bewoond. Over het algemeen vormen zij kliekjes. Niemand is dol op pottenkijkers. Het is dan ook niet eenvoudig om een gedegen onderzoek uit te voeren. Toch blijft Warden de zaak onderzoeken, ook al houden de agenten van Laagstad hem in de smiezen. Sinds zijn ontmoeting met het afschrikwekkende wezen, weet hij dat er iets groots te gebeuren staat. Iets onafwendbaars. Toch wil hij een poging wagen het oprukkende kwaad een halt toe te roepen. Hij krijgt hulp van de jonge Mees, een straatschoffie dat als lijm aan hem vastgekleefd lijkt te zitten. Meedogenloze drugsdealer of niet, Wardens hart gaat naar de bevolking van Laagstad uit.

Met De wreker van Laagstad sleepte de Amerikaanse auteur Daniel Polansky de Franse Prix Imaginales in de wacht. Aanvankelijk heb ik erg met het verhaal geworsteld. De sfeer van het verhaal is duister en het vele grove taalgebruik stond me tegen. Ook het leven in het groezelige Laagstad beviel me totaal niet. Wat een naargeestige plek! Toch ben ik door blijven lezen. Het verhaal begon me steeds meer aan te spreken en toen kreeg ik eindelijk ook oog voor het prachtige taalgebruik van de auteur. Het ging in eerste instantie achter de harde woorden schuil maar toen ik het eindelijk zag, begon ik van het verhaal te genieten. De wreker van Laagstad is niet zomaar een fantasyboek: het is literaire fantasy.

De wreker van Laagstad is meer dan een strijd tussen goed en slecht. Dit verhaal is allesbehalve oppervlakkig. Het gevecht vindt in een schemergebied plaats. Warden weet niet goed wie aan welke kant staat. Zijn bondgenoten hem stiekem vijandig gezind en vice versa? Niemand is puur goed of puur slecht en dat heeft de auteur heel goed begrepen. De achterdocht van Warden sloeg op me over en na een aantal bloedstollende gebeurtenissen was ik ineens zomaar bij het laatste woord aanbeland. Ongemerkt had het verhaal me toch opgeslokt. Fascinerend!

ISBN 9789021404479 | paperback | 364 pagina's | Uitgeverij Q | november 2016
Vertaald door Natalie Koch
© Annemarie, 30 december 2016
Lees de reacties op het forum en/of reageer, klik HIER