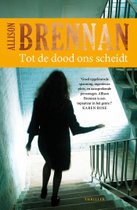 Tot de dood ons scheidt
Allison Brennan

Lucy Kincaid, 25 jaar en vrijgezel, heeft gesolliciteerd naar een baan bij de FBI. Het is haar grote droom, en ze weet zeker dat ze de juiste bagage heeft: ze heeft de goede studies gevolgd, met de juiste stageplekken. Het enige dat in de weg kan zitten is haar verleden. Zes jaar eerder was zij het slachtoffer van een verkrachter en moordenaar, en daarbij heeft Lucy zelf haar aanvaller doodgeschoten. Nu werkt ze als vrijwilliger voor de organisatie Women and Children First! (WCF). Ook vast niet fout voor haar cv, denkt ze. Daar zal ze wel gelijk in hebben, maar ze valt eveneens op bij de verkeerde mensen en de nabije toekomst komt op losse schroeven te staan!

Voor de WCF lokt ze juist die mensen die hun volle straf niet hebben uitgezeten, of te weinig straf hebben gekregen. In de ogen van de WCF dan. Ze spelen dus eigen rechter, als ze deze mannen in de val proberen te lokken. Lucy is daar overigens goed in. Haar ex, Cody, is politieagent en ook werkzaam bij de WCF. Hij zorgt er voor dat de mannen die denken met een nieuw slachtoffer te hebben afgesproken, opgepakt worden. Als Lucy ontdekt dat de mannen van wie zij aannamen dat ze gewoon niet waren op komen dagen, vermoord zijn, komt zij op een verkeerde manier onder de aandacht van de FBI.

Gelukkig staan haar schoonzus Kate, en agent Noah Armstrong aan haar kant. En via haar broer komt er hulp van een beveiligingsexpert, Sean Rogan. Die kan op wat minder orthodoxe manier de zaak onderzoeken, al moet hij uitkijken voor zijn licentie als privédetective. Sean denkt niet dat Lucy iets met de moorden te maken heeft. Maar ze lijkt er aan alle kanten wel bij betrokken te zijn! Wie is degene die haar stalkt? Is dat een van de recidivisten? Is het haar ex, Cody? Die is duidelijk jaloers op de nieuwkomer, Sean. En het hoofd van de WCF lijkt ook al niet helemaal 100% koosjer.

Mogelijkheden te over, en terwijl de zaak zich langzaam ontwikkelt, gaat de stalker door met zijn voorbereidingen voor de ontvoering. Hij is een gevaarlijk persoon, en komt steeds dichterbij. En dan is Cody dood. Zelfmoord? Of toch moord?

Zoals al enigszins duidelijk is: de liefde speelt ook een rol in dit verhaal. Lucy en Sean voelen zich tot elkaar aangetrokken. Maar Lucy heeft de nodige littekens opgelopen, letterlijk en figuurlijk. Zodoende is er best een behoorlijke dosis romantiek aanwezig in deze thriller. En zeker voor de geoefende thrillerlezer is de ontwikkeling van het plot vrij voorspelbaar.

Het eerste deel in de Lucy Kincaid serie laat je uitgebreid kennis maken met Lucy. Tot de dood ons scheidt is een romantische thriller. Wie niet zo van - licht - erotische scènes houdt, kan hele stukken overslaan. Wat overblijft is spannend genoeg. Het zou me niets verbazen als Lucy Kincaid meer stalkers krijgt, maar dan van het gewenste soort!

ISBN 9789026138645| paperback| 400 pagina's | Uitgeverij De Fontein| juni 2016
Vertaald uit het Engels door Jan Smit
© Marjo, 5 december 2016
Lees de reacties op het forum en/of reageer, klik HIER