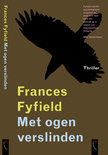 Met ogen verslinden


Frances Fyfield
Dit is een boek dat tussen wal en schip valt, is het een thriller? Of is het een psychologische roman? Alletwee kan, dus ik zou het een psychologische thriller kunnen noemen, maar die vlieger gaat niet op: het boek wordt nergens echt spannend. Je zit niet op het puntje van je stoel. Er is wel een bepaalde spanningsboog, die meer in de karakters van de personages ligt. Fyfield (ik ken haar niet, maar ze schijnt veel meer geschreven te hebben) weet de aandacht wel vast te houden, al duurde het even voor ze me te pakken had. Misschien ligt dat aan het feit dat ik dacht een thriller te lezen...

Het verhaal:
Richard Beaumont heeft toen hij gepensioneerd was schilderen als hobby genomen. Modellen zijn slecht te vinden, klaagt hij tegen zijn (veel jongere) vrouw. Als hij op een dag op de kliffen zit en er langs hem een vrouw naar beneden valt, onderneemt hij geen hulpactie, maar gaat rustig het lichaam van het meisje zitten schetsen. Dat levert heel wat ellende op. Te meer omdat hij nogal vergeetachtig is, en eigenlijk zelf niet meer weet hoe hij daar verzeild is geraakt. Misschien heeft hij zelf wel de hand gehad in de val van het meisje? Maar wie is ze dan? Hoe komt ze daar? Is ze gevallen, of misschien geduwd?
Zijn schets verwerkt hij in een schilderij, een figuur op de rotsen beneden, met zwarte vogels. Volgens Richard alpenkraaien, maar dat kan helemaal niet, volgens de vogelkenner Edwin.
Behalve deze Edwin zijn er nog de vrouw van Richard, de inbreker en diens zus. En de dokter..
De misdaad en de dader spelen slechts op de achtergrond een rol. Veel meer zijn het schetsen van een aantal personen die allemaal hun eigenaardigheden hebben, die net niet ongeloofwaardig worden.

Paperback | 240 Pagina's | Archipel, Uitgeverij | 2005 ISBN: 9063051468
© Marjo, december 2005
---