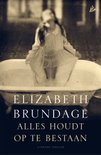 Alles houdt op te bestaan
Elizabeth Brundage

Op een winterse dag in 1979, om halfzes 's avonds, slaan de honden van de familie Pratt aan. Voor hun huis staat een man te bibberen in de kou. In zijn armen houdt hij een klein meisje met blote voeten vast. Het tweetal draagt geen jas en het meisje is nog in pyjama. Ze zien er totaal ontredderd uit, allebei met sneeuw bedekt. June Pratt herkent ze meteen. Het zijn George Clare en zijn driejarige dochter Franny. George vertelt dat er iets met zijn vrouw is gebeurd. June heeft meteen door dat het ernstig is.

In de zomer van 1978 is George met zijn gezin naar het stadje Chosen verhuisd. Voor een prikje heeft hij de oude boerderij van de familie Hale gekocht. George ging als hoogleraar op de universiteit aan de slag aan en zijn vrouw Catherine bleef thuis om voor Franny te zorgen. Een doodgewoon gezin dat nog moest wennen aan het leven in het kleine plattelandsstadje.

Volgens George was iedereen dol op Catherine. Hij kan zich niet voorstellen dat iemand haar kwaad heeft willen doen. Toch is dat precies wat er gebeurd is. Tijdens Georges afwezigheid, is iemand het huis binnengedrongen. De onbekende is naar de slaapkamer van George en Catherine gegaan waarna hij of zij Catherine in haar slaap heeft vermoord. George trof zijn vrouw bij thuiskomst dood aan. Haar schedel was met een bijl doorkliefd. De kleine Franny was de hele dag alleen met haar dode moeder geweest.

Rust er soms een vloek op de oude boerderij? Voor George het kocht, behoorde het aan de familie Hale toe. Zij hadden een melkveehouderij tot financiële nood hen dwong het bedrijf op te doeken. Niet veel later werden de ontzielde lichamen van vader en moeder Hale gevonden. Ze lagen in hun slaapkamer boven de garage. In de garage was een auto gestart. De uitlaatgassen waren door de kieren naar de slaapkamer gedreven waar zij een vredige dood bewerkstelligden. Had het stel samen zelfmoord gepleegd of had de een de ander overrompeld? Hun zoons bleven alleen achter. Aanvankelijk bleven ze op de boerderij wonen maar al snel meldde de bank zich. De boerderij werd in beslag genomen.

De jongens Hale trokken bij een oom in, waar ze dapper probeerden het leven weer op te pakken. Vol weemoed keerden ze regelmatig naar de boerderij terug. Catherine was dol op de jongens en huurde ze als klusjesmannen in. Ze wist niet dat ze op de boerderij opgegroeid waren. Ook wist ze niet dat hun ouders in haar slaapkamer om het leven waren gekomen. George wist het wel. Hij verzweeg de tragische geschiedenis voor zijn vrouw. Hij verzweeg wel meer voor haar.

Wat is er precies gebeurd op 23 februari 1979? Was het huwelijk van George en Catherine niet zo rooskleurig als George beweerde? Konden de jongens Hale niet langer verkroppen dat er indringers in hun boerderij woonden, of is er iets heel anders gebeurd? Wie heeft de vriendelijke Catherine Clare vermoord? In Alles houdt op te bestaan doet Elizabeth Brundage uit de doeken welke gebeurtenissen tot de afschuwelijke daad hebben geleid.

Tegenwoordig wordt vrijwel elke thriller te pas en te onpas een "literaire thriller" genoemd. Alles houdt op te bestaan is een boek dat dit predicaat ook werkelijk verdient. Het is prachtig geschreven. De haast dromerige, bedachtzame schrijfstijl van Elizabeth Brundage sluit naadloos op dit indringende verhaal aan.

Het verhaal wordt vanuit meerdere perspectieven verteld. George, Catherine en de jongens Hale vertellen hun verhaal maar ook buren, vrienden en bekenden vertellen hoe zij tegen het leven van de familie Clare hebben aangekeken. Het zijn allemaal losse puzzelstukjes die samen uiteindelijk een compleet plaatje vormen. Vaak zorgt deze vertelwijze voor verwarring maar dat is bij dit boek helemaal niet het geval. Elizabeth Brundage is een kundige schrijfster en heeft het uitstekend aangepakt.

Al na het lezen van de eerste bladzijde wist ik dat ik een heel bijzonder boek in handen had. Een thriller die naast spannend vooral heel intens is. Een verhaal dat bijblijft. Alles houdt op te bestaan is een waar juweel. Deze thriller wil je niet missen!
ISBN 9789048830107 | paperback | 478 pagina's | Hollands Diep | mei 2016
Vertaald door Lucie Schaap en Maaike Bijnsdorp
© Annemarie, 25 mei 2016
Lees de reacties op het forum en/of reageer, klik HIER