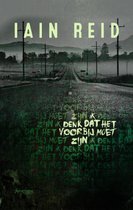 Ik denk dat het voorbij moet zijn
Iain Reid

Hoewel ze Jake pas een week of zes kent, weet ze al enige tijd dat ze hun relatie maar beter kan beëindigen. Ze voelt zich tot Jake aangetrokken maar toch twijfelt ze. Ze heeft niet het gevoel dat er een gelukkige toekomst voor hen samen is weggelegd. Toch heeft ze het geschikte moment te zeggen dat het voorbij moet zijn niet aangrepen. Ook de andere momenten waarop ze haar twijfels uit had kunnen spreken, gleden ongemerkt voorbij. En nu is ze samen met Jake onderweg naar de afgelegen boerderij van zijn ouders. Nog altijd is het hoge woord er nog niet uit.

De autorit lijkt eindeloos te duren. De boerderij ligt op een paar uur rijden van hun woonplaats. Terwijl ze uit het raam kijkt, probeert ze het gerinkel van haar telefoon te negeren. Ze maakt Jake wijs dat ze door een opdringerige vriendin gebeld wordt en daar geen zin in heeft. In werkelijkheid is de onbekende beller een man. De telefoontjes zijn kort na haar ontmoeting met Jake begonnen. Wie hij is en wat hij van haar wil, weet ze niet. Hij jaagt haar angst aan. Ze voelt zich er zo ongemakkelijk door dat ze er niet over kan praten. Als ze haar angsten hardop uitspreekt, kunnen ze nooit meer genegeerd worden. Nooit meer weggestopt worden in het donkerste hoekje van haar brein. Ze zwijgt en kijkt naar het plattelandslandschap dat als een oneindig schilderij voorbijglijdt.

Kun je tijdens een autorit zeggen dat het voorbij moet zijn? Ze twijfelt. Bovendien heeft ze eigenlijk geen enkele reden om het te zeggen. Jake ziet er niet onaardig uit, heeft een goede baan en is intelligent. Hun gesprekken zijn filosofisch van aard. Samen kunnen ze urenlang mijmeren over de zin van het leven. Ook over zijn bedprestaties heeft ze niets te klagen. Waarom denkt ze dan toch dat het voorbij moet zijn? Het is nog niet te laat. Ze kan nog altijd haar mond openen om haar besluit aan Jake mee te delen.

Nu ze weet dat het binnenkort voorbij zal zijn, is ze minder zenuwachtig over het bezoekje aan haar "schoonouders". Het is immers niet de bedoeling een band met ze op te bouwen. Na het bezoekje zal ze Jakes ouders waarschijnlijk nooit meer zien. Misschien is het zelfs beter om eerst maar gewoon bij ze op visite te gaan. Ze kan Jake ook naderhand het slechte nieuws vertellen. Toch is ze nieuwsgierig. Zal Jake op zijn ouders lijken? Hoe is hun onderlinge band? Ze vindt Jake nog altijd leuk. Eigenlijk zou ze in haar nopjes moeten zijn met een partner als Jake. Toch duikt de gedachte die hun gezamenlijke toekomst om zeep helpt, steeds in haar hoofd op. Het heeft zich stevig verankerd en laat zich niet meer verdrijven. Keer op keer spookt het door haar hoofd: "Ik denk dat het voorbij moet zijn."

Ik denk dat het voorbij moet zijn is het fictiedebuut van Iain Reed. Eerder schreef hij al de veelgeprezen non-fictieboeken One Bird's Choise en The Truth About Luck. Dit indrukwekkende verhaal begint als een filosofische roman maar de spanning die tijdens de autorit in het verhaal sluipt, neemt steeds grotere vormen aan. Er gaat iets heel onheilspellends van het verhaal uit. De roddelpraatjes die de hoofdstukken doorbreken, doen het ergste vermoeden.

De roddelpraatjes worden door onbekenden gevoerd. Het kunnen telefoongesprekken zijn, ontmoetingen in de supermarkt of gesprekken op een kantoor. Ze gaan over iets vreselijks dat is gebeurd. Iets dat niemand had verwacht. De gesprekken worden steeds gedetailleerder. Over wie gaan ze? Gaan ze over Jake of over iemand anders? Hoe zit het eigenlijk met de onbekende beller die de hoofdpersoon steeds lastigvalt? Steeds als hij haar belt, ziet ze haar eigen telefoonnummer op het scherm van haar mobiele telefoon verschijnen. Wie is hij en wat wil hij van haar? De onthutsende waarheid laat zich niet raden.

Niemand kan na zes weken beweren iemand door en door te kennen. Toch is het heel normaal om met je kersverse partner een autorit te maken. Welke rampzalige gevolgen kan een ritje naar het platteland immers hebben? Het gaat om een onschuldig bezoekje aan twee oude mensen. Auteur Iain Reid laat de spanning torenhoog oplopen. Het benauwende gevoel dat zich van de hoofdpersoon meester maakte, sloeg genadeloos op mij over. Je zou dit boek een spannende roman maar ook een literaire thriller kunnen noemen. Het is dan een literaire thriller die het predicaat "literair" ook echt verdient. Ik denk dat het voorbij moet zijn is bijna onverdraagbaar intens. Een waar kunststuk.

ISBN 9789044632514 | paperback | 222 pagina's | Prometheus | november 2016
Vertaald door Dennis Keesmaat
© Annemarie, 14 november 2016
Lees de reacties op het forum en/of reageer, klik HIER