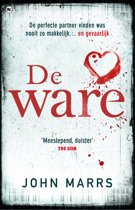 De ware
John Marrs


Als iets te mooi is om waar te zijn, kun je het ook beter maar niet geloven!

Toch lijkt het een fantastisch idee: een eenvoudige DNA-test doen en je weet wie de perfecte partner voor jou is! Geen teleurstellingen meer op datinggebied, geen verbroken relaties en scheidingen als blijkt dat de huidige partner toch tegen valt, dat is te mooi om waar te zijn dus?

De eerste twijfel die in je opkomt is: wat als degene die de ware is voor mij zich niet aangemeld heeft bij dit bureau? En in hoeverre kan een gen bepalen wie de persoon is die de enige echte zou moeten zijn? Maar bij Match Your DNA, zo heet het nieuwe datingbureau, zitten al miljoenen mensen in het bestand, en er zijn ook al ontelbare mensen gematcht, die allemaal zeer tevreden zijn.
Helaas betekent deze vinding ook dat mensen die al samen waren tot de ontdekking zouden kunnen komen dat hun relatie op los zand gebaseerd is. Het bedrijf wordt zodoende behalve zeer geroemd, ook verguisd: er lopen vele rechtszaken.
Niet dat de eigenaresse zich er iets van aantrekt. Al moet ze zich omringen met beveiligers, ze is er rijk van geworden. En ze gelooft in haar werk.

We volgen vijf mensen, die hun DNA opgestuurd hebben en bericht krijgen over hun match.
Nick was het eigenlijk helemaal niet van plan, hij staat op het punt om te trouwen met Sally, die voor hem de ware is. Vrienden dringen evenwel aan. Een grote schok: zijn match is niet Sally, het is zelfs een man! Verbijsterd als hij is, kan hij het niet laten: hij wil deze Alexander ontmoeten.
Jade heeft een match aan de andere kant van de wereld, en het onlinecontact bevalt haar zo goed dat ze zonder dat het hem te vertellen het vliegtuig pakt. En ze blijkt niet zo welkom als ze verwacht had.

Mandy is weer alleen na een relatie, en ze wil zo graag kinderen. Ze was reuze blij met haar match, maar ook voor haar is het niet per definitie een happy end..
Ellie, de eigenaresse van het datingbureau, heeft ook een match, en ze vertelt haar Ware niet wie zij eigenlijk is. Ze heeft al te veel ervaring met mannen die op haar geld uit zijn. Tim lijkt inderdaad de ideale partner voor haar. Lijkt…

En dan is er Christopher. Een man die zichzelf een psychopaat noemt. Koel en berekenend heeft hij al zeven vrouwen vermoord. Hij wurgt hen en laat op de plaats delict een foto achter van de volgende - die dus dan nog niet gevonden is - plus een eigen merkteken. Dat de politie geen idee heeft wie hij is of waarom hij moordt, geeft hem een kick. En dan blijkt zijn match, Amy, bij de politie te werken.
Christopher vertelt over zijn leven, zijn beweegredenen en zijn doel. Fascinerend wordt het als hij een dubbelleven moet gaan leiden, nu hij omgaat met Amy. Het lijkt hem goed af te gaan.

Toch is zijn verhaal niet het onderwerp van de thriller. Die eer gaat naar de zaak rond het DNA-bureau. Net als bij Nick, Mandy, Jade en Ellie gaat er in de match van Christopher waarschijnlijk iets fout gegaan.

Maar waarom gaat het fout? Waar faalt het systeem dat zo goed in elkaar lijkt te zitten?
Als je dit boek eenmaal gelezen hebt is het twijfelachtig of je ooit zo'n test zou laten doen!

De Engelsman John Marrs is journalist en schrijver. Zijn eerste roman publiceerde hij in 2013.
'De ware' is zijn derde, en het eerste in het Nederlands vertaalde boek.


ISBN 9789044356137 | Paperback | 400 pagina's | Uitgeverij The house of the Books | november 2019
© Marjo, 12 december 2019
Lees de reacties op het forum en/of reageer, klik HIER