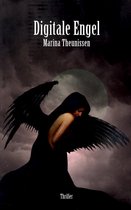 Digitale engel
Marina Theunissen

Terwijl hij de hond uitlaat, verstoort een oudere man een groepje jongens die een meisje belagen. Gust, zo heet hij, wil zich er eigenlijk niet mee bemoeien, maar waarschuwt toch de politie.
Zo redt hij het leven van de vrouw, die intussen ook door een onbekende aangevallen is. Hij – of zij – heeft haar flink geraakt, ze moet onmiddellijk geopereerd worden, en blijft daarna lang in coma.

Mede doordat ze zich niet kan herinneren wie ze is, of wat er gebeurd is, is het personeel erg met haar begaan. Vooral de dokter die haar geopereerd heeft, Scott Scoffer. Hij is toevallig (?) aanwezig als ze wakker wordt.
Hij blijft haar dagelijks bezoeken, en Amor slaat toe. Scott vraagt haar ten huwelijk, en alles lijkt goed te komen met Abigail, zoals ze zichzelf nu noemt.
Maar: ze weet nog steeds niet wie ze is.

Eigenlijk hoeft ze zich daar niet druk om te maken, ze heeft het al moeilijk genoeg met het heden. Want die toekomst die zo mooi leek, is dat allesbehalve.
Scott is zo erg gesteld op orde en netheid, dat hij dat van haar ook eist. Ze heeft iedere dag een briefje met taken die ze moet uitvoeren. En hij wil niet dat ze de deur uit gaat, of op een andere manier contact heeft met haar redder, Gust. Of met haar nieuwe kennis, de tuinman van de buren.
Maar hij is overdag niet thuis, dus dan kan ze toch wel haar eigen leven leiden? Niet dus. Hoe het kan, ze heeft geen idee, maar als ze ook maar een stap naar de buitenwereld doet, staat hij heel snel voor haar. Hoe weet hij dat toch?

En er komen flarden terug van vroeger. Scott zegt dat dat niet kan, het zijn verzinsels.
Tegen de tijd dat de lezer ontdekt hoe het allemaal in elkaar steekt, is er bijna geen redding meer voor Abigail.
Kan ze ontsnappen uit deze situatie? Wie is Scott eigenlijk? En wat zijn zijn bedoelingen?

Dit is een psychologische thriller, we volgen een slachtoffer en een dader. De een wil er uit, de ander houdt haar tegen. De ontknoping begint met een bijzondere wending van het verhaal, die alles nog spannender maakt.
Het is die spanning en de onvoorspelbaarheid waardoor je eventuele andere onvolkomenheden voor lief neemt. Natuurlijk weet je als lezer nog niet wat er gaat gebeuren en achteraf is het verklaarbaar, maar in het begin gaat het allemaal wel erg makkelijk. Scott opereert de vrouw blijkbaar zonder onderzoek te doen. Hij is plastisch chirurg, wordt gezegd? Hoe kan het dat hij dan een hersenoperatie doet? En hij werd weggeroepen van huis waar hij een feest op touw had gezet. Daar wordt geen woord meer over gezegd: stonden zijn gasten voor niets aan de deur?
En hij is wel erg toevallig net aanwezig als ze wakker wordt uit haar coma. En de politie is er ook - erg toevallig - meteen.
Maar zoals gezegd: dat vergeet je, omdat het verhaal je daarna in zijn greep krijgt.

Marina Theunissen (Rijkhoven, 1946) was kleuterleidster en begon met jeugdboeken. Digitale engel is haar tweede thriller voor volwassenen.

ISBN 9789044839678 |paperback |256 pagina's | Uitgeverij C. de Vries-Brouwers| november 2020
© Marjo, 24 januari 2021
Lees de reacties op het forum en/of reageer, klik HIER