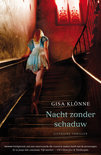 Nacht zonder schaduw
Gisa Klönne

Als het onderwerp van een boek niet iets is waar je graag over leest en je leest het boek toch geboeid uit, dan is er geen andere conclusie mogelijk dan dat het goed geschreven is. Dit is het derde boek van Gisa Klönne, het eerste dat ik lees en ik heb zo'n donkerbruin vermoeden dat de hoofdpersonen in de andere boeken dezelfde zijn. Er zijn meer personages, maar er zijn er drie die het verhaal dragen.

Hoofdinspecteur Judith Krieger is een alleenstaande vrouw. Er zijn genoeg kandidaten, maar op de een of andere manier slaagt ze er niet in contact te maken. In dit boek wordt ze achtervolgd door een vervelende droom waarin ze valt; er is ook een stem die zegt: 'nu weet je wat het is'. Ekatarina Petrowa is een Russin die als patholoog-anatoom werkt in Keulen, waar het verhaal speelt. Er zijn de nodige demonen in haar verleden, maar ze hoopt er mee afgerekend te hebben. Tot ze op een dag aangesproken wordt door een vrouw in haar nevenfunctie van arts voor de vereniging van Vrouwen voor Vrouwen, een instelling waar mishandelde vrouwen veilige plek kunnen vinden, als ze eenmaal besluiten hun man of pooier te verlaten. De vrouw roept nare herinneringen op. De derde vrouw die een grote rol speelt is de kunstenares Theodora Markus. Net als de andere twee alleenstaand, en met de nodige problemen.

Vlak bij een eindhalte van de S-Bahn wordt een dode man gevonden. Het is een bestuurder van de S-Bahn, een onopvallende, eenzame man. Niemand weet iets bijzonders over hem te vertellen, men heeft geen idee waarom hij vermoord is. Hier is goed speurwerk vereist, en Judith Krieger bijt zich er in vast, terzijde gestaan door enkele mannen. Moet zij in haar werk zich als vrouw sowieso al bewijzen, steeds opnieuw, nog erger wordt het als zij het vermoeden uit dat vrouwenhandel, vrouwenmishandeling een grote rol speelt in deze zaak. Dat concludeert zij als na een brand in een pizzeria, in hetzelfde gebied een Russisch meisje wordt gevonden: in de kelder, in coma door de rook. En als een van de kunstenaressen in de oude fabriek een call-girl blijkt te zijn.
Het onderzoek brengt hen bij zwervers, bij pooiers en bordelen, niet bepaald een prettig milieu. Kriegers mannelijke collega's denken aan maffiapraktijken, ze denken dat Judith te veel blijft hangen op een van haar stokpaardjes. Het loopt allemaal anders dan ze dachten, en het wordt levensgevaarlijk voor Judith. En ongelooflijk spannend voor de lezer.

Gisa Klönne voert die spanning op door het verhaal vanuit verschillende perspectieven te vertellen, en natuurlijk haar hoofdstukken af te sluiten met cliffhangers. Behalve een spannende thriller is het ook een boek dat een doekje open doet over de handel in vrouwen, over de nauwelijks bestaande rechten en mogelijkheden die mishandelde vrouwen hebben. Over blijf-van-mijn-lijfhuizen, en over prostitutie. In dit geval vooral toegespitst op Duitsland natuurlijk, maar er is geen Europees land waar deze zaken niet op de politieke agenda staan of zouden moeten staan.
ISBN 978 90 229 9581 5 Paperback 292 pagina's | A.W. Bruna Uitgevers | maart 2010
'Nacht ohne schatten' Vertaald door Olga Groenewoud
© Marjo, april 2010
Lees de reacties op het forum en/of reageer klik HIER