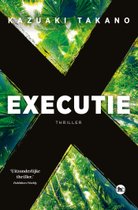 Executie
Kazuaki Takano

'Van alle levende wezens is Homo Sapiens het enige wezen dat op grote schaal zijn eigen soort uitmoordt. Dat is de definitie van de mens. De menselijke aard staat gelijk aan wreedheid. Andere soorten mensen die vroeger op de aarde hebben gewoond, de vroege mens en de neanderthalers, zijn uitgeroeid door de moderne mens. (--) Waarom moeten we altijd in angst leven dat mensen elkaar zullen doden? Die angst is nooit minder geworden, vanaf het moment van het ontstaan van de mens tot aan vandaag, een doorlopende periode van tweehonderdduizend lange jaren. De enige vijand die de mens heeft, is zijn eigen soort – andere mensen.'

En nu is er in de binnenlanden van Congo een nieuwe menssoort ontstaan. Het kind van drie jaar oud lijkt superintelligent. Een bedreiging vindt de president van Amerika. Hij kent het enkele jaren eerder verschenen Heisman Rapport, dat de diverse mogelijkheden beschrijft van een eventuele apocalyps. Het vijfde deel beschrijft de mogelijkheid van een nieuwe menselijke soort dat de bestaande soort vermoedelijk zal uitroeien.

'Ze zullen een vierde dimensie waarnemen en onmiddellijk complexe entiteiten kunnen begrijpen en ze zullen een zesde zintuig hebben en een hoogontwikkeld moreel bewustizjn – vermoedelijk kwaliteiten die voor ons onbegrijpelijk zijn.'

De president verdraagt geen intelligentie die zijn macht te boven gaat. Hij en hij alleen is de baas. De Amerikaanse militair, Jonathan Yeager, werkzaam bij een particulier defensiebedrijf, trekt met zijn mannen het oerwoud in. Ze hebben de opdracht het kind en zijn begeleider te doden, en en passant de hele pygmeeënstam waar zij bij wonen.
In Japan vindt een jonge wetenschapper, farmacologie is zijn richting, de erfenis van zijn vader. Hij is verbijsterd, maar zet zich onverdroten in om te doen wat van hem gevraagd wordt. Dat blijkt uiterst gevaarlijk.
In Amerika probeert de CIA met alle middelen die ter beschikking staan het doel te bereiken wat hun president voor ogen heeft. De man gaat nietsontziend te werk, levens tellen voor hem niet. En Nous, zoals het driejarige kind genoemd wordt, is een bedreiging.

Verschillende verhaallijnen, die knap geconstrueerd zijn, en steeds meer verweven raken. Er is sprake van allerlei technologie, waarvan de gemiddelde lezer niet zal weten of het überhaupt bestaat. De president is fictief, en voor zover ik weet de nieuwe mens ook, maar heel veel elementen die Katano beschrijft zijn waar. De mens is zijn eigen vijand.

Bijna zeshonderd pagina's lang lees je over situaties waarvan je hoopt dat ze niet realistisch zijn, terwijl je eigenlijk wel beter weet. Behalve de hoofdpersonages zijn er nog vele bijfiguren, waarvan je niet altijd weet – en zij zelf ook niet - aan welke kant ze eigenlijk staan. Dat maakt het superspannend. Er zijn actiescènes, soms gruwelijk; er is informatie, die nogal wetenschappelijk is en dus onbegrijpelijk; en er is die vreselijke ziekte waaraan kinderen sterven als er geen medicijn gevonden wordt.

Kazuaki Takano (1964) werkte als scriptschrijver in Japan en Hollywood. Executie stond maandenlang in de Japanse en Duitse bestsellerlijsten, won meerdere prijzen en werd in Japan verkozen tot beste thriller van het jaar. Zonder twijfel is deze thriller die handelt over ons moreel besef ook hier de thriller van het jaar: origineel, superspannend, actueel en to the point...

ISBN 9789044348323| paperback| 576 pagina's | Uitgeverij The House of Books| december 2015
Vertaald uit het Japans door Yolande Ligterink
© Marjo, 16 juli 2016
Lees de reacties op het forum en/of reageer, klik HIER