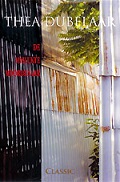 De mislukte moordenaar
Thea Dubelaar



Dit boek was in 1993 een boek dat geschikt is voor de leeftijd 10 tot 13 jaar. Nu is het opnieuw uitgegeven voor volwassen lezers die er zeker wel plezier mee zullen beleven, het verhaal is heel boeiend. Het is een apart en origineel verhaal waarin Jorge de hoofdpersoon is.

Jorge was zes toen hij op straat terecht kwam. Zijn moeder ging er vandoor met een man in een auto en kwam nooit meer terug. Hij was al gewend aan een leven vol armoede, want ze woonden in een golfplaten kamer, en nu leerde hij stelen. Hij waste autoruiten bij stoplichten en als hij geld had snoof hij lijm.

Op een dag, hij leeft dan al een paar jaar op straat, spreekt een man in een auto hem aan bij een stoplicht. 'Stap in,'zegt de man, 'ik heb werk voor je.' Jorge aarzelt niet te lang, hij vertrouwt op zijn gevoel. En zo leert hij Ferdinand kennen, die hem om hulp vraagt bij een wel heel vreemde kwestie. Hij heeft van zijn vader een pact met de duivel geërfd. Hij moet de duivel, die verschijnt in de gedaante van een man die stinkt naar zwavel, een leven geven. Hij kan zelf met de duivel meegaan, of zoals zijn vader dat deed: zijn zoon geven. Of iemand vermoorden.

Wat wil hij van Jorge? Hij denkt dat een straatjongen hem kan helpen met de moord. Want hij kiest het laatste, een vreemde om het leven brengen. Jorge gaat mee naar het hotel waar Ferdinand logeert, krijgt nieuwe kleren en gaat in bad. Ook de kapper komt er aan te pas, en dit alles brengt hem in problemen. Hoe kan hij zijn maatjes, de andere zwerfkinderen nog onder ogen komen nu hij er zo anders uitziet?

En die moord lukt niet erg. De eerste poging mislukt omdat ze medelijden krijgen met hun slachtoffer. De tweede poging is ook geen succes. En als Ferdinand de jongen mee naar zijn huis neemt en Jorge daar diens vrouw en zoon leert kennen, wordt het leven heel lastig voor de straatjongen. Enerzijds is het luxe leventje wel aanlokkelijk, maar hij zal dan naar school moeten. Nu is het wel prettig om te kunnen lezen en schrijven, maar wèg is dan de vrijheid die hij op straat wel heeft. Vooral zijn vriend Antonie wil hij graag blijven zien en helpen nu hij zelf zoveel mazzel heeft. Hij gaat de straat weer op. Maar het valt niet mee, Jorge krijgt problemen als een van zijn maten vermoord gevonden wordt. Waarschijnlijk vermoord door de ordedienst, die ook hem belaagt. Al vluchtend ontmoet hij een man, Joachim op de vuilnisbelt en die hem helpt. Wat zal Jorge doen, op straat blijven of bij Ferdinand gaan wonen? En hoe helpt hij zijn beschermer Ferdinand?

Het verhaal is rechtlijnig, speelt zich af in een kort tijdsbestek, en leest vlot weg.
Inderdaad is het een volwassen verhaal, al is het simpel geschreven. Een verhaal over het sluiten van een pact met de duivel heeft een dubbele laag. Zo'n pact kost je immers je ziel. De vraag is: ben je bestand tegen het kwaad? Is de vriendschap van anderen genoeg om weerstand te bieden?

ISBN 978 90 783 7605 7 Paperback, 192 pagina's, Uitgeverij Zijdar Book herschreven versie augustus 2010
© Marjo, 10 september 2010
Lees de reacties op het forum en/of reageer, klik HIER