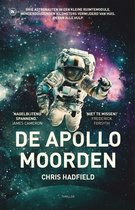 De Apollomoorden
Chris Hadfield

Het is 1973, Kaz (kort voor Kazimieras) Zemeckis werkt in Houston, hij is verbindingsofficier bij de NASA, en begeleidt de drie astronauten die de Apollo 18 bemannen, op weg naar de maan.

Amerika en Rusland zijn verwikkeld in een ruimtewedloop, ze spioneren er op los om elkaars vorderingen in de gaten te houden. Als de Amerikanen ontdekken dat de Russen een geheim hebben – zij hebben een ruimtestation van waaruit ze een supercamera kunnen gebruiken die zelfs de mensen op aarde kunnen waarnemen – nemen ze hun maatregelen. Daar weten maar een paar mensen van, en deze keer hebben de Russen nog niet doorgekregen van hun infiltrant dat er gevaar dreigt.

Vlak voor de lancering komt een van de astronauten om het leven. Is het een ongeluk? Is er opzet in het spel? Op aarde is het onderzoek gaande.
De lancering moest doorgaan zonder dat er uitsluitsel was, maar de vraag is of de drie astronauten die nu op weg zijn naar de Almaz van de Russen wel veilig zijn. Door een miniem menselijke foutje is er een probleem met de communicatie ontstaan, zodat overleg met de aarde niet goed mogelijk is.
En terwijl de ruimtevaarders dachten een betrekkelijk eenvoudige opdracht te hebben, loopt het totaal fout. De basis op aarde, noch die in Amerika, noch die van de Russen, kan nog iets doen (een variatie op het Major Tom-verhaal).

Het levert een zeer spannend verhaal op, dat vooral voor de liefhebbers van ruimtevaart en alles wat daarmee samenhangt spekkie voor het bekkie zal zijn. Er wordt nogal veel feitelijke informatie gegeven.
In het eerste deel vertelt Hadfield het verhaal van een lancering, alles wat daarmee samenhangt, op basis van zijn eigen belevenissen en kennis. Op het moment dat de raket gelanceerd is wordt het grotendeels fictief - de Apollo 18 is namelijk nooit de lucht ingegaan – waarbij de feiten rondom een maanlanding nog steeds kloppen.

Dat geldt ook voor de personages: een aantal is gebaseerd op bestaande personen, andere zijn volledig fictief. Chris Hadfield (Sarnia, 1959) is namelijk een gepensioneerd ruimtevaarder. Tussen 1995 en 2012 maakte hij drie ruimtereizen: eentje naar het Russische ruimtestation Mir en twee naar ISS, waarvan de laatste als bevelvoerder. Hij werkte veel samen met de Russen en fungeerde ook vaak als CAPCOM, de verbindingsofficier tussen de bemanning en de vluchtleiding. Hij weet dus waar hij het over heeft, hetgeen het verhaal wel interessanter maakt. Als je alleen een thriller dacht te lezen, kom je bedrogen uit. Je gaat namelijk een ruimtereis maken!

ISBN 9789044363784 | paperback | 544 pagina's | Uitgeverij House of Books| januari 2022
Vertaald uit het Engels door Henk Moerdijk.
© Marjo, 9 mei 2022
Lees de reacties op het forum, klik HIER