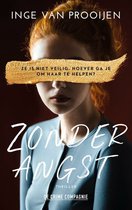 Zonder angst
Inge van Prooijen

Enigszins tegen de wens van haar partner in heeft Cleo een eigen praktijk opgezet. Ze heeft zelf ervaring met angst en noemt haar praktijk Monsters onder mijn bed.
Ze heeft een therapie ontwikkeld op basis van kunst. Ze laat haar cliënten tekenen en schilderen zodat ze ontspannen en makkelijker praten.

Aan Cleo de taak om uit te zoeken of de mensen die haar hulp inroepen last hebben van ingebeelde angst of dat ze misschien wel recht van spreken hebben. Ze gaat er van uit dat de gevoelens die de cliënten hebben sowieso echt zijn, maar over het geheel genomen is het voor haar makkelijker om een niet gerechtvaardigde angst te lijf te gaan. Waar zit de oorsprong van die angst?

Julia is haar nieuwe cliënt. Zij is een jonge student en ze is bang omdat ze denkt dat ze gestalkt wordt. Haar verhaal raakt Cleo ten zeerste. Ze begint zich af te vragen of de angsten van Julia misschien echt zijn. Ze begint er mee om het meisje te vragen wie ze allemaal kent. Wie er in staat zou zijn om in het appartement van Julia binnen te komen.

Het geval Julia laat haar niet los, ze gaat daar heel ver in. Haar partner Dex neemt haar die betrokkenheid kwalijk, hun relatie lijdt er onder.

Angststoornissen is dus het thema van dit verhaal. Het zit heel goed in elkaar, je zou er zelf wantrouwend van worden.
Het verhaal wordt in de ik-persoon verteld door Cleo, onderbroken door stukjes cursieve tekst, waarbij lang onduidelijk blijft wie daar aan het woord is. Er is een proloog waarboven staat: HIJ.
Maar wie is deze manspersoon?

Je probeert mee te puzzelen, maar natuurlijk zorgt de schrijfster er wel voor dat je de oplossing niet vindt! Er zijn verrassende wendingen in het verhaal verwerkt, die je echt niet aan ziet komen.
Daarom alleen al is dit een veelbelovend debuut! Maar wat het verhaal iets extra's meegeeft is de beschrijving van een angststoornis. Het is heel invoelbaar wat het met je doet als je bang bent.

Inge van Prooijen (1988) schreef met Zonder Angst haar eerste thriller, een mooie psychologische thriller.

ISBN 9789461096807 | Paperback | 300 pagina's | Uitgeverij de Crime Compagnie | januari 2023

© Marjo, 31 januari 2023
Lees de reacties op het forum en/of reageer, klik HIER