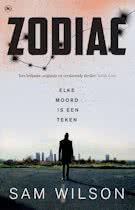 Zodiac
Sam Wilson

Het lichaam wordt gevonden door Rachel, een schoonmaakster van het bedrijf Jiffyclean. Wanneer ze enigszins gehaast en nauwelijks op tijd bij het huis van een nieuwe klant arriveert, ziet ze dat de voordeur op een kier staat. Enigszins onzeker roept ze de eigenaar maar niemand reageert. Dan ziet ze de splinter die uit het deurkozijn steekt. Iemand heeft de deur met geweld geopend. Rachel pakt haar mobieltje en belt de alarmcentrale.

Terwijl de centralist haar met een prettig kalme stem sommeert op de hulpdiensten te wachten, hoort Rachel iemand praten. Het geluid, een mannenstem, komt uit de achtertuin. Opluchting maakt zich van haar meester. Er is niets aan de hand, de eigenaar van de luxe bungalow is in de tuin, daarom heeft hij haar niet horen roepen en aanbellen. Met de telefoon in haar hand loopt Rachel naar de achtertuin. Op een kuil na, is er niks te zien. Rachel moet zich vergist hebben. Ze draait zich op en loopt terug naar de achterpoort, maar net voor ze de achtertuin wil verlaten hoort ze een vreemd geluid.

Het geluid komt uit de kuil. Ligt er iemand in? Rachel vergeet haar angst, negeert de inmiddels dwingende stem van de centralist en loopt naar de kuil. Op de bodem ligt een met bloed besmeurde man. Hij is vastgebonden en zijn ingewanden puilen uit zijn buik. Met hulp van de centralist probeert ze de man te helpen maar wanneer ze iets in het huis ziet bewegen, verstijft ze. Ze wordt gadegeslagen. Eindelijk besluit Rachel naar de centralist te luisteren. Het is inderdaad beter zo snel mogelijk bij het huis vandaan te gaan. Helaas heeft ze te lang gewacht. Rachel wordt overmeesterd en verdwijnt spoorloos.

Terwijl niemand weet of er nog hoop voor Rachel is, is het voor de man in de kuil zonder twijfel te laat. Degene die hem zo vreselijk heeft toegetakeld, heeft ervoor gezorgd dat zijn slachtoffer hoe dan ook aan zijn verwondingen zou sterven. Niet veel later kijkt rechercheur Jerome Burton vol afschuw op het lijk van zijn baas neer. Hoofdcommissaris Peter Williams is voorgoed uit zijn functie ontheven. Dan valt Burtons oog op de hoopjes aarde die om de kuil zijn gestrooid. Het is een symbool. Het symbool van het sterrenbeeld stier. Gaat het om sterrenbeeld gerelateerd geweld?

De wereld in de thriller Zodiac lijkt sterk op de wereld zoals wij die allemaal kennen. Toch is er een wezenlijk verschil. Het gesternte waaronder de inwoners geboren zijn, bepaalt welke kansen ze in het leven krijgen. Het gaat zelfs nog verder dan dat. De dag waarop iemand geboren is bepaalt ook het karakter en het uiterlijk. Mensen met hetzelfde sterrenbeeld zoeken elkaar op, leven in harmonie met sommige andere sterrenbeelden en mijden omgang met sterrenbeelden van een twijfelachtige klasse. Zwangerschappen worden zorgvuldig gepland want een kind dat een ander sterrenbeeld dan zijn of haar ouders heeft, gaat een eenzame toekomst tegemoet.

Zodiac bestaat uit twee verhaallijnen die helaas niet mooi in elkaar overvloeien. De eerste verhaallijn gaat over de dood van de hoofdcommissaris. Jerome Burton werkt met tegenzin samen met astroloog Lindi. Kunnen de sterren echt helpen het moordmysterie te ontrafelen? In de tweede verhaallijn neemt de rijke Daniel Lapton de hoofdrol voor zijn rekening. Wanneer hij ontdekt dat zijn rijke familie voor hem heeft verzwegen dat hij een dochter heeft, ontsteekt hij in woede. Wanhopig probeert hij het meisje op te sporen, waarna hij op de ene onaangename verrassing na de andere stuit.

Zodiac biedt een origineel verhaal maar de uitwerking laat te wensen over. Onlogische sprongen in de tijd en vreemde persoonlijke ontwikkelingen zorgen ervoor dat het verhaal allesbehalve soepel verloopt. Persoonlijk heb ik niks met astrologie en in eerste instantie lijkt het verhaal behoorlijk vergezocht. Toen ik de sterrenbeelden echter in gedachten verving voor verschillende huidskleuren, was het verhaal ineens schrikbarend echt. Het is raar om iemand met een impopulair sterrenbeeld uit te sluiten maar is het niet even belachelijk om dezelfde selecties op basis van huidskleur te maken?! Met Zodiac maakt auteur Sam Wilson op geheel eigen wijze duidelijk hoe verkeerd het is om mensen op basis van afkomst in een hokje te plaatsen. Dat maakt de gebrekkige uitwerking enigszins goed.

ISBN 9789044350593 | paperback | 412 pagina's | The House of Books | juni 2017
Vertaald door Nathaly Schrijnder
© Annemarie, 14 augustus 2017
Lees de reacties op het forum en/of reageer, klik HIER