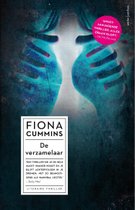 De verzamelaar
Fiona Cummins

Niemand lette op de kleine Clara Foyle. Niemand zag dat het vijfjarige meisje genoeg van de andere kinderen op de kinderspeelplaats had en wegglipte. Niemand, op de verzamelaar na. Voor hem was het een onverwachte meevaller. Het was niet moeilijk het onzekere kind mee te nemen. Geloofde ze echt dat hij een vriend van haar moeder was of durfde het meisje gewoonweg niet te weigeren? Toen Clara eindelijk tegen durfde te stribbelen was het al te laat. De verzamelaar hield de kleine kinderhand stevig vast en wandelde met haar weg. De straat uit, het onbekende in.

De vele nieuwsberichten over de verdwijning van Clara zijn de zesjarige Jakey Frith niet ontgaan. Hij vreest dat ze door Ouwe Bullebak is ontvoerd. Jakey laat zich niet langer wijsmaken dat deze boeman niet bestaat. Jakey vreest dat Ouwe Bullebak het ook op hem heeft voorzien. Hij voelt hoe het kwaad zich in zijn buurt ophoudt. Wat als hij net als Clara in het niets oplost? Zijn vader heeft hem beloofd er altijd voor hem te zijn maar is de man die zijn zoon regelmatig teleurstelt echt in staat het kwaad te overwinnen? Jakey Frith is bang. Bang voor wat komen gaat.

Brigadier-rechercheur Etta Fitzroy voelt een verbetenheid die ze beslist niet bij elkaar zaak voelt. De verdwijning van de kleine Clara doet haar aan een eerdere ontvoering denken. Toen de tiener Grace Rodríquez verdween, slaagde Etta er niet in haar terug te vinden. De zaak achtervolgt haar nog vrijwel dagelijks. Nu Clara spoorloos verdwenen is, lijkt het alsof de geschiedenis zich herhaalt. Is ook Clara voorgoed weg? Etta is echter niet van plan op te geven. Ze is bereid tot het absolute uiterste te gaan om Clara met haar ouders te kunnen herenigen. Dit keer zal het kwaad niet overwinnen, dat kan ze simpelweg niet aan. Etta weet echter nog niet dat de ontvoerder een nieuw slachtoffer op het oog heeft. De verzamelaar heeft de angstige Jakey opgemerkt.

Zowel met Clare als met Jakey is iets bijzonders aan de hand. Clara mist aan beide handen een aantal vingers en Jakey lijdt aan fibrodysplasia ossificans progressiva, oftewel het Stone Man Syndrome. Jakeys spieren, pezen en andere bindweefsel veranderen langzaam in botten, wat een bijzonder pijnlijk en invaliderend proces is. Jakey weet niet dat hij niet oud zal worden maar hij weet wel dat de pijn steeds vaker ondraaglijk is. Niet lang na de verdwijning van Clara krijgt Jakey een zogenoemde "uitbarsting". Het jongetje is door de vorming van nieuwe botten letterlijk ziek van de pijn en moet in het ziekenhuis worden opgenomen.

De verzamelaar volgt Jakey en zijn familie op de voet. Hij vindt Jakey een prachtexemplaar. Zijn bijzondere skelet zal een waardevolle aanvulling op zijn verzameling vormen. Ook Clara vormt een interessant studieobject. Zal hij haar in leven houden of komt haar skelet beter tot zijn recht als het van al het vlees is ontdaan? De verzamelaar is trots op zijn vondsten.

Wat De verzamelaar zo spannend maakt is dat zowel de ouders van Jakey als Etta Fitzroy niet weten wat het jongetje te wachten staat. Niemand weet dat de verzamelaar op het punt staat opnieuw toe te slaan. Als lezer weet je dat wel en die kennis is zenuwslopend. Op elke bladzijde wordt het gevaar dreigender. Zal de verzamelaar Clare doden en ook Jakey te pakken krijgen? Ingrijpend lukt niet. De lezer kan alleen maar naarstig doorlezen en vurig hopen dat de verzamelaar op tijd ontmaskerd wordt.

De verzamelaar is het debuut van de Britse schrijfster Fiona Cummins. Het is een ijzingwekkend spannend verhaal dat voorlopig nog wel even door mijn hoofd zal spoken. Wat het verhaal zo sterk maakt is dat deze schrijfster ook de menselijke kant van de verzamelaar beschrijft. Door hem niet puur als een meedogenloos monster maar ook als een intelligente man die zijn zieke vrouw verzorgt te beschrijven, neemt de intensiteit van de spanning alleen maar toe. Hoe spoor je immers een monster in de gedaante van een doodgewoon mens op? Dit indrukwekkende debuut smaakt naar meer. Gelukkig is Fiona Cummins al aan haar volgende boek begonnen!

ISBN 9789026332982 | paperback | 386 pagina's | Ambo|Anthos | juni 2017
Vertaald door Saskia Peterzon-Kotte
© Annemarie, 20 juli 2017
Lees de reacties op het forum en/of reageer, klik HIER