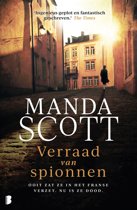 Verraad van spionnen
Manda Scott

Dit boek is niet zomaar een thriller, het is een ode aan de Franse verzetsstrijders tijdens de Tweede Wereldoorlog, de Maquis. Niet alleen aan hen, maar ook aan de Special Operation Executives van Operatie Jedburgh. Het laat zien dat gebeurtenissen die inmiddels zo lang geleden zijn, generaties lang blijven doorwerken. Maar eerst even in het kort, wat deden de mensen van Operatie Jedburg eigenlijk?


Operatie Jedburgh was een geallieerde operatie tijdens de Tweede Wereldoorlog in aanloop naar de invasie op D-Day op 6 juni 1944. Hierbij landden speciale eenheden per parachute of zweefvliegtuig achter de vijandelijke linies in Frankrijk, België en Nederland om sabotage- en guerrilla-acties uit te voeren tegen de Duitse bezetters en plaatselijke verzetsgroepen te organiseren. De operatie was vermoedelijk vernoemd naar de Schotse plaats Jedburgh, een prachtige plek overigens. Winston Churchill was de initiator van deze teams, die bedoeld waren om Europa, en dan met name de Duitse belangen, in vuur en vlam te zetten. Er zijn in de loop der jaren verschillende uitgaven verschenen met gewaagd uitgevoerde acties van deze teams.


Het boek zelf focust met name op Frankrijk, met uitstapjes naar Engeland, Schotland, en later in de tijdlijn het Duitsland van achter het ijzeren gordijn. De samenwerking tussen de Jedburgh Teams en het Franse verzet wordt op een indringende manier beschreven, ook de verschrikkelijke gebeurtenissen, die weinig te maken hebben met de manier waarop dit soms verfilmd wordt. Het is een spionagethriller op hoog niveau, als je eenmaal vertrouwd ben geraakt met de familiebanden leest het bijna op een verslavende manier weg. Zeker als je wat vertrouwd bent het de geschiedenis van de Tweede Wereldoorlog. Uiteraard kan ik hier het plot en de plotwendingen niet omschrijven, maar geloof me, ze zijn de moeite waard. Ik denk vaak dat ik het wel ongeveer kan voorspellen, maar dit einde zag ik niet aankomen


Zoals de auteur in het nawoord terecht stelt, dit boek kan alleen nog maar in deze tijd gesitueerd worden. Over een aantal jaar zullen helaas alle ooggetuigen van, en deelnemers aan de Tweede Wereldoorlog ons ontvallen zijn. Dit geeft het boek ook een hoge mate van urgentie. Het mooie hiervan is, dat het makkelijker is om helemaal 'in' het boek te komen. We herkennen ons gemakkelijk in de hoofdpersoon, het verhaal speelt zich immers in onze tijd af. Het kan ons dus ook overkomen, zo'n confrontatie met het verleden. Zolang er mensen leven die de Tweede Wereld oorlog hebben meegemaakt, kan er nieuwe informatie boven komen. Om nog maar niet te spreken over de dossiers over dit onderwerp, die in de komende 25 jaar nog vrijgegeven zullen worden. De auteur maakt hier overigens ook dankbaar gebruik van.


Over dossiers gesproken, het boek geeft ook een mooi beeld van het ontstaan en de ontwikkeling van de verschillende inlichtingendiensten. Het in schokkend om te lezen dat de geallieerde inlichtingeneenheden zonder blikken of blozen de grootse Nazi oorlogsmisdadigers beschermden omdat ze wellicht van belang konden zijn in de strijd tegen de Sovjet-Unie. Blijkbaar zijn dan de nationale belangen groter als de misdaden die gepleegd werden tijdens het Hitler-Bewind. Dit geeft overigens de Neurenberg processen een ietwat wrange nasmaak.


Als je van thrillers houd, en van geschiedenis, is dit het perfecte boek. Goed geschreven, goed historisch onderbouwd ook. De plots zijn spannend, en de flashbacks zijn mooi vormgegeven. Je voelt je echt afwisselend in het Engeland en Frankrijk van 1944, of het hedendaagse Frankrijk. De hoofdpersonen zijn goed neergezet, maar zijn achteraf niet helemaal wie ze pretenderen te zijn. Als je eenmaal begint, hoop ik dat je wat vrije tijd kunt maken, want dan moet het boek uit ook. Aanrader!


ISBN 9789022587904 | Paperback | 512 pagina's | Boekerij | augustus 2019
Vertaald door Waldemar Noë
© Jan Keuken, 10 oktober 2019
Lees de reacties op het forum en/of reageer, klik HIER