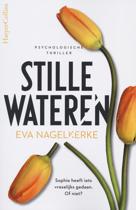 Stille wateren
Eva Nagelkerke

Het is bijna tien jaar geleden dat Sophie in paniek 112 belde. Ze heeft iets vreselijks gedaan, zegt ze tegen degenen die opneemt.
Als het verhaal verder gaat in 2018 woont de dan 29-jarige Sophie nog steeds in Hilversum bij haar ouders, die haar voortdurend controleren. Ze mag nergens naar toe in haar eentje, ook naar de wekelijkse therapiesessie en naar haar werk wordt ze gehaald en gebracht. Dat moet, zeggen haar ouders. Of: 'het is beter zo'.

Als het nu nog gezellig in huis was, was het misschien nog te doen, maar haar moeder houdt zich aan strikte regels en ze laat duidelijk merken dat ze Sophie kwalijk neemt dat haar leven anders is dan ze had gewenst. En haar vader zwijgt. Er is nog een broer, Oscar, met wie ze iedere dinsdag gaat wandelen en pannenkoeken eten, maar ook Oscar kan of wil niet helpen.Hij heeft aan zijn eigen gezinnetje zijn handen vol.
Het leven van Sophie ziet er niet rooskleurig uit. En komt ze enigszins in opstand, dan dwingt haar moeder haar een extra pilletje te slikken. En dat terwijl ze zich niet eens herinnert wat ze dan wel gedaan heeft!
Sophie vertelt haar broer over de krantenknipsels die ze gevonden heeft gedaan heeft waarin zij 'de witte dood' genoemd wordt, zegt Oscar:

'Je hebt iets ergs gedaan, Sophie, maar je bent geen slecht mens.'
Ze neemt een klein slokje van haar koud geworden muntthee. 'Ik hoop maar dat zij dat ook vinden.' brengt ze schor uit.'

Maar als ze vraagt of ze een cursus mag gaan volgen waarvoor ze enkele keren naar Utrecht zou moeten, weigeren haar ouders haar te brengen. Alleen gaan is uit den boze. Die cursus wordt niet alleen aanbevolen, maar ook betaald door haar werkgeefster.

Sophie werkt in een bloemenwinkel, wat ze tegen eigen verwachting in leuk vindt. Jacobien, de eigenaresse, begrijpt niet dat Sophie niet gewoon haar leven in eigen hand neemt. Als Sophie vertelt wat er eigenlijk gebeurd is, voor zover ze dat weet dan, brengt Jacobien haar aan het twijfelen. Er zijn zoveel vragen, en als Sophie zich niet herinnert wat er nu eigenlijk gebeurd is, is het dan wel gebeurd zoals men aanneemt?
Zo komt het dat Sophie op onderzoek uit gaat. En al snel blijkt dat er iemand is die niet wil dat de waarheid aan het licht komt.

Door middel van flashbacks - een spannend verhaal op zich! - komt de lezer er langzaam achter wat er voorgevallen is, toen Sophie in Utrecht studeerde en op kamers zat. Ook wordt er steeds gewisseld van verteller, en dat houdt de spanning er goed in. Het personage van Sophie kruipt onder je huid, terwijl je die moeder van haar wat zou willen aandoen!

Al is dit het eerste boek onder de naam Eva Nagelkerke, het is intussen al het derde boek van de zussen Alexandra en Victoria Nagelkerke en het smaakt naar nog meer! De plot is origineel, en goed uitgewerkt met een uitstekende spanningsboog, je wil gewoon doorlezen tot het uit is. En mocht je als lezer denken te weten hoe het zit, nou dan heb je het mooi mis!

Een nagelbijtertje, deze psychologische thriller!

Alexandra en Victoria Nagelkerke werden geboren in Amsterdam en groeiden op in een dorpje aan de Loosdrechtse Plassen.Hun eerste gezamenlijke boek verscheen in 2015 (Te Koop-thriller) en stond direct op de shortlist voor de Hebban Thriller Debuutprijs.
Na het verschijnen van hun tweede boek (Zwaartekracht-thriller) schreven zij twee seizoenen van de Storytel Original 'de Mooiste Tijd van je Leven', voorgelezen door Abbey Hoes.

ISBN 9789402704631 | Paperback | 320 pagina's | Uitgeverij Harper Collins | oktober 2019
© Marjo, 7 januari 2020

Lees de reacties op het forum en/of reageer, klik HIER