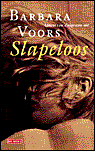 Slapeloos

Barbara Voors

De hoofdpersoon in Slapeloos, Savanna Brandt, lijdt sinds enige maanden aan slapeloosheid en zo langzamerhand vernietigt dat haar leven. Ze kan haar werk niet aan, want 'haar zenuwen zijn draadjes die buiten hangen' zoals Barbara Voors het uitdrukt. Eigenlijk bestaat ze niet meer.
Ogenschijnlijk is er geen oorzaak aan te wijzen voor de slapeloosheid. Weliswaar heeft Savannah vier jaar geleden haar zoontje van zes verloren, maar sinds die tijd heeft ze juist als een blok geslapen. Niet toevallig, zoals later zal blijken.
Dat aan de doorwaakte nachten wel degelijk een oorzaak ten grondslag ligt, blijkt gaandeweg het verhaal. Eén van de elementen die een rol spelen, is een gebeurtenis, die Savannah heeft waargenomen toen ze elf was. In het pension waar ze logeerde met haar ouders is een dode vrouw aangetroffen. Savannah heeft iets gezien dat ze niet had mogen zien, maar dat heeft ze wel en nu, vijfentwintig jaar later, breekt haar dat alsnog op.
Ze probeert te werken aan een proefschrift over de schrijfster Elisabeth Brown die - eveneens vijfentwintig jaar geleden - onder nooit geheel opgehelderde omstandigheden om het leven is gekomen. Alles wijst erop dat ze zelfmoord heeft gepleegd, maar de mensen uit haar directe omgeving geloven daar niet in. Savannah's taak bestaat uit het weerleggen van 'feiten' die in een populaire biografie van de schrijfster zijn blootgelegd en het op het spoor komen van de verdwenen roman 'Insomnia'.
Nadat ze een paar weken heeft geleden aan de slapeloosheid begint Savannah mailtjes met dreigementen te ontvangen. Aanvankelijk lijken die niets te betekenen te hebben, maar ze worden angstaanjagender naarmate bij Savannah het besef doordringt dat ze verband houden met de moord die vijfentwintig jaar geleden plaatsvond.

Er zijn dus twee verhaallijnen: de moord bij het pension en de verklaring van de dood van de schrijfster Elisabeth Brown.
Een belangrijk motief, dat een rol speelt bij beide verhaallijnen, is de mishandeling van vrouwen door hun echtgenoot of minnaar. Waarom blijft een vrouw bij zo'n man, is de centrale vraag. Barbara Voors beantwoordt die vraag overtuigend.
Het verhaal wordt verteld vanuit Savannah, in de ik-vorm. Dat werkt hier erg goed. De wanhoop om het niet-slapen, het verdriet om haar gestorven kind en haar angst om te zien wat ze verdrongen heeft worden voelbaar. Savannah is geen bewonderingswaardige heldin die door haar vernunft van alles oplost, zoals vaak voorkomt in thrillers, maar een onzekere vrouw die bijna verpletterd wordt door gebeurtenissen in het verleden en het heden. Een echt mens dus. Dat zij herrijst, is te danken aan het feit dat ze - door de omstandigheden gedwongen - weer echt menselijk contact toelaat in haar leven.
Bij de oplossing van de twee raadsels die de verhaallijnen dragen wordt veel van hypnose gebruik gemaakt. Dat is het enige minpuntje van het boek: ik betwijfel of het mogelijk is om via hypnose verdrongen feiten zo gedetailleerd als in het boek gebeurt naar boven te halen. Ik vraag me zelfs af of het werkelijk mogelijk is om hele belangrijke gebeurtenissen, die zware gevolgen hebben voor de rest van je leven, zo grondig en totaal te verdringen.
De perfect beschreven beleving van Savannah maakt alles goed. Dit boek kan met recht een literaire thriller worden genoemd.

Hardcover | 367 Pagina's | Uitgeverij De Geus | 2001 ISBN: 9052269556
PetraO., april 2007
Lees de reacties op het forum en/of reageer, klik HIER!