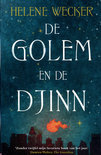 De golem en de djinn
Helene Wecker

Aan het einde van de negentiende eeuw ontmoeten twee bijzondere wezens elkaar in New York. Een vrouw en een man, maar ze zijn 'nep': mythische wezens in menselijke gedaante. De vrouw is een golem. De man een djinn.
Een golem is een figuur uit de Joodse cultuur: gemaakt van klei en tot leven gewekt door een rabbijn. Een djinn is een wezen uit de Arabische islamitische overleveringen, een wezen van vuur. Een djinn kan bezit nemen van mensen, en is vooral bekend door de lamp van Alladin: de geest in de fles.

De golem uit dit verhaal wordt gemaakt door een Poolse rabbijn, als dienares voor een jood die met haar naar Amerika emigreert, maar de reis niet overleeft.
Daar staat de golem: zij die gemaakt is om te dienen heeft geen meester meer. Het geluk is met haar, ze ontmoet rabbi Avram Meijer, die haar leert om te gaan met de wereld. Hij vindt werk voor haar in een bakkerij, en ze heeft een eigen woninkje. Als de neef van de rabbi haar ontmoet, valt hij voor haar, maar natuurlijk weet Chava dat het niets kan worden. Ze kan alleen maar doen alsof. Toch moet ze daar haar toevlucht toe nemen als er gevaar dreigt. Iemand is op zoek naar haar. Wil die persoon haar nieuwe meester zijn? Dat belooft niets goeds. Dan liever de onschuldige onwetende Michael.

Al snel na haar aankomst in New York heeft Chava een bijzondere ontmoeting gehad: er is een ander wezen, net als zij niet menselijk. Hoewel ze heel verschillend zijn, is alleen al het anders-zijn genoeg voor een band. Een golem en een djinn hebben veel gemeen: ze hebben geen slaap nodig, hoeven ook niet te eten en beschikken over bijzondere eigenschappen. Chava 'leest' wat de mensen om haar heen willen, en ze is enorm, maar dan ook enorm sterk. Ahmad vormt metaal met zijn handen, maar waar Chava erg begaan is met de mens, is hij in feite alleen maar uit op gewin. Ahmad is opgevangen door de tinnegieter Arbeely, een Syriër, die hem 'uit zijn fles' bevrijd heeft, en hem het beroep leert.
Ook voor Ahmad dreigt er gevaar, vreemd genoeg uit dezelfde hoek!

Dit en nog veel meer wordt je verteld door Helene Wecker. Deze Amerikaanse schrijfster debuteert met dit fantastische verhaal, waarvoor zij in Amerika een debutantenprijs won. Terecht, want het is een weergaloos verhaal. Het geeft een beeld van New York tegen de eeuwwisseling, toen het overspoeld werd door emigranten van alle windstreken, die allemaal een eigen stempel drukten op de maatschappij.
Hun eenzaamheid, de wil om er toch iets van te maken, hun vindingrijkheid brengt Wecker tot uiting in diverse andere kleurrijke personages.
Maar het blijven vooral de golem en de djinn voor wie je graag een goede afloop ziet komen. En daar ziet het niet naar uit. Hun vijand is machtig. Daar doet de magie zijn intrede. Het geeft het boek natuurlijk een extra dimensie, maar in de grond is het een roman voor iedereen: is een roman immers niet een verhaal over hoe tegengestelden elkaar vinden?

Of je het nu leest als een 'gewone' roman, als een verhaal over een man en een vrouw die elkaar elkaars eigenaardigheden leren kennen en ondanks de tegenstellingen er iets van proberen te maken, of dat je er meer in wil zien: het gaat tenslotte om de Joodse én de islamitische legenden, en je kan daar als je wil bepaalde conclusies uit trekken - hoe je insteek ook is, het is een boek dat je niet loslaat.
Meer dan vijfhonderd pagina's lang, en het verveelt geen moment! Integendeel zelfs: het is jammer als het uit is.

ISBN 9789048820016 | paperback | 539 pagina's| Uitgeverij Mistral | juni 2014
Vertaald uit het Engels door Carolien Metaal
© Marjo, 6 augustus 2014
Lees de reacties op het forum en/of reageer, klik HIER
---