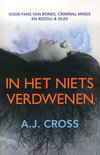 In het niets verdwenen
A.J. Cross
Flaptekst:
Dr. Kate Hanson is forensisch psycholoog. Ze geeft les aan de Universiteit van Birmingham en werkt daarnaast als consultant voor het coldcaseteam van de plaatselijke politie.
Als het skelet van een jonge vrouw ontdekt wordt, doet het bewijs vermoeden dat het om de al vijf jaar vermiste tiener Molly James gaat, en de zaak wordt overgedragen aan Kate en haar collega's. Hoe dieper ze op de zaak ingaan, hoe gruwelijker de aanwijzingen worden.
Tegen de tijd dat het tweede lichaam wordt gevonden is Kate ervan overtuigd dat het hier om een recidivist gaat: een moordenaar die zich aanpast, zich ontwikkelt en die niet zal stoppen tot hij opgepakt wordt.
Kan Kate de aanwijzingen die de moordenaar achter heeft gelaten op tijd ontcijferen om te voorkomen dat hij een volgend slachtoffer maakt?

In de proloog zien we even een man die naar twee kleine meisjes kijkt en een van hen roept en grijpt. In de loop van het boek wordt duidelijk waar dit mee te maken heeft. Vervolgens gaan we naar een andere tijd, waarin een jonge vrouw verdwijnt. Deze vrouw komen we later nog een keer tegen in het boek. Vier jaar later verdwijnt er weer een jonge vrouw, waarna het roofdier onderduikt.

Na deze mysterieuze en wat onheilspellende opening, begint het het echte verhaal met Kate, die een college over seriemoordenaars geeft. De volgende ochtend maakt Kate ruzie met haar dochter Maisie, die Kate min of meer alleen opvoedt. Er is wel een vader, maar die is van Kate gescheiden en neemt het niet zo nauw met z'n vaderlijke verplichtingen. Dit zorgt natuurlijk ook voor de nodige spanningen in het privéleven van Kate.
Die ochtend wordt Kate opgehaald door Bernard Watts, een brigadier van de recherche van West Midland. Bij een rondweg zijn de stoffelijke resten gevonden van een jonge vrouw. Het gaat waarschijnlijk om Molly Elisabeth James, die in 2002 voor het laatst gezien is in een winkelcentrum. Ze was op dat moment 18 jaar oud.

Inspecteur Furman, de leider van het onderzoek naar de verdwijning van het meisje, krijgt ook de leiding over dit onderzoek, dat volgens hem niet te lang mag duren. Het doel is volgens hem vooral om vast te stellen dat er bij het oorspronkelijke onderzoek niets over het hoofd is gezien. Kate is het hier niet mee eens, omdat zij vermoedt dat er meer achter de moord zit. Natuurlijk worden ook de mensen die al eerder in beeld zijn geweest weer ondervraagd en dat is niet altijd naar de zin van de leidinggevenden, zeker niet als het gaat om mensen die rijk zijn en onmiddellijk met hun advocaat aankomen. Naar mate het onderzoek vordert krijgt Kate steeds meer het gevoel dat men met een seriemoordenaar te maken heeft en dat er misschien meer lijken moeten zijn. Op de plaats waar het lichaam van Molly James is gevonden, worden nieuwe menselijke resten gevonden, terwijl er op enige afstand van deze tweede vindplaats ook een dijbeen wordt gevonden.

Het tweede lichaam blijkt van Janine Walker te zijn, een 18-jarig meisje dat in 1998 verdwenen is. Inmiddels hebben we ook een glimp opgevangen van de moordenaar en een potentieel slachtoffer. Kate vermoed dat de dader begonnen is als verkrachter en er wordt gekeken naar oude verkrachtingszaken, die niet zijn opgelost en waarvan het slachtoffer lijkt op de vrouwen waarvan het lichaam is teruggevonden.
Er zijn ook meer conflicten met inspecteur Furman, die moeite heeft met de hoeveelheid tijd die in het onderzoek gestoken wordt. Bovendien blijken bepaalde stukken nauwelijks te vinden te zijn in het archief, omdat ze niet op de juiste plaats zijn opgeborgen. Dit blijkt geen structureel probleem te zijn, want stukken die niets met de slachtoffers van de seriemoordenaar te maken hebben, kunnen zonder probleem worden gevonden.

Op een gegeven moment zijn we getuige van de ontvoering van een meisje, dat later als vermist wordt opgegeven. Dan wordt er weer een lichaam gevonden en dit keer gaat het om Jody Westbrooke, het meisje dat eerder als vermist is opgegeven. De seriemoordenaar blijkt dus nog steeds actief te zijn. Kate krijgt weer problemen met inspecteur Furman, die vindt dat ze geen tijd moet besteden aan de onopgeloste verkrachtingszaken, tenzij ze harde bewijzen heeft, dat de verkrachtingen te maken hebben met de latere moorden. Dat is natuurlijk een onmogelijke eis, omdat dit verband alleen aangetoond kan worden, door verder onderzoek te doen.

Al met al was het wel een spannende thriller en ik benieuwd of dit het begin wordt van een nieuwe serie. Toch kan ik niet zeggen dat het boek me helemaal gegrepen heeft. Het was een goed boek, maar ik heb wel betere gelezen. De verwijzing op de voorkant naar een aantal politieseries op TV is misschien een teken aan de wand. Ondanks de dikte mis ik toch een zekere diepgang.


ISBN 9789026129926 paperback 429 pagina's Uitgeverij de Fontein september 2014
© Renate, 26 mei 2015
Lees de reacties op het forum en/of reageer, klik HIER