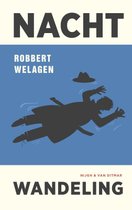 Nachtwandeling
Robbert Welagen

Hoe ouder inspecteur Simon Mudde wordt, hoe meer hij naar rust snakt. Hij heeft tijdens zijn lange carrière bij de politie genoeg ellende gezien. Over een paar jaar heeft hij de pensioengerechtigde leeftijd bereikt en kan hij het eindelijk voor gezien houden. Dan mogen anderen het stokje van hem overnemen. Mudde doorbreekt de dagelijkse portie narigheid door lange ochtendwandelingen met zijn labrador Jochie te maken. Een onbezorgd onderonsje met de natuur doet hem goed.

Wanneer Mudde een enthousiaste Jochie in het uitgestrekte bos ziet verdwijnen en geniet van de stilte die op hem neerdaalt, wordt de rust ruw door een vervelend geluid verstoord. Zijn telefoon gaat. Mudde ziet dat het bureau hem probeert te bellen en kan een diepe zucht niet onderdrukken. Zijn collega's bellen hem vast niet voor een gezellig kletspraatje.

Mudde heeft gelijk. In de Amstel is een lijk aangetroffen. Het gaat om de schrijver Jacob van Herwijnen. De zestiger is onder verdachte omstandigheden om het leven gekomen. Mudde moet de zaak onderzoeken en wordt op de plek van het misdrijf verwacht. Enigszins verbitterd stapt Mudde met een teleurgestelde Jochie in zijn auto. Het is niet best met de wereld gesteld als het mensen niet eens meer gegund is een ontspannende wandeling te maken.

Jacob van Herwijnen was een bekende naam in schrijversland. De avond voorafgaand aan zijn dood had hij zelfs een prestigieuze prijs in de wacht gesleept. Heeft zijn succes tot zijn dood geleid? Werd zijn prijs hem misgund? Mudde kent het schrijverswereldje niet. Hij heeft geen idee of schrijvers en uitgevers onderling vriendschappelijk met elkaar omgaan of juist rancuneus gedrag vertonen. De ervaren politieman is voor zijn werk echter wel vaker in voor hem onbekende werelden gedoken. Het zal hem ongetwijfeld lukken de schrijverswereld te doorgronden. Mochten er geheimen achter literaire volzinnen schuilgaan, dan zal hij ze ontrafelen.

Mudde ontdekt dat schrijvers eerder verwaand dan agressief gedrag vertonen. Ook de prijsuitreiking, in het Amstel Hotel, is uiterst kalm verlopen. Op de gemaakte videobeelden is te zien dat het een vrij saai gebeuren was. Toch is Jacob van Herwijnen niet zomaar in de Amstel gevallen. Op zijn slaap prijkt een opvallende wond. De schrijver was een fanatiek wandelaar. Is iemand hem gevolgd om hem in het duister van de nacht van het leven te beroven? Voorlopig blijft het bij vermoedens. Ook over het motief van de dader, tast Mudde in het duister.

Nachtwandeling is de eerste detective van auteur Robbert Welagen, die al zes romans op zijn naam heeft staan. Al na het eerste hoofdstuk is duidelijk dat ook het jasje van een detectiveschrijver hem uitstekend past. Inspecteur Mudde is een aangenaam personage dat af en toe door een lichte melancholie overvallen wordt maar verder op een prettige manier in het leven staat. Zijn echtscheiding heeft hij goed verwerkt. Mudde heeft genoeg aan het goede contact met zijn dochter, een handvol goede vrienden én zijn trouwe hond Jochie. Ook op het werk functioneert hij goed. Hij kan prima met zijn jongere collega Kramer overweg, hoewel hij van mening is dat diens gebrek aan levenservaring af en toe tot onbeholpen gedrag leidt.

In Nachtwandeling gaan eenvoud en diepgang hand in hand. Hoewel het opsporen van de moordenaar gedegen speurwerk vereist en zich interessante ontwikkelingen voordoen, blijft het verhaal een gerieflijke luchtigheid behouden. Het verhaal bevat alle kenmerken van een goede detective maar door de schrijfstijl van de auteur - die zich van heldere, goed doordachte zinnen bedient – en het hoge niveau waarop het verhaal is uitgewerkt, is het meer dan dat. Nachtwandeling is een literaire detective. Een genre dat me meer dan goed bevalt. Nachtwandeling biedt niet alleen een uitstekend verhaal, het vormt eveneens een solide basis voor een reeks over inspecteur Mudde. Hopelijk blijft het niet bij een eenmalig uitstapje maar vormt het schrijven van detectives voortaan een van Welagens vaste routes.

ISBN 9789038802527 | hardcover | 237 pagina's | Nijgh & van Ditmar| maart 2017
© Annemarie, 12 april 2017
Lees de reacties op het forum en/of reageer, klik HIER