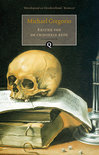 Kritiek van de criminele rede
Michael Gregorio

Wie een beetje bekend is met filosofie kent Immanuel Kants 'Kritiek van de zuivere rede' . De verwachting die de titel wekt, komt uit: de heer Kant speelt een vrij grote rol in deze thriller! Maar de lezer hoeft absoluut geen kennis te hebben van de grote filosoof of van zijn theorieën om dit boek te kunnen volgen, al nodigt het boek wel uit tot googlelen.

Het boek begint precies op 7 februari 1804: Magistraat Hanno Stiffeniis wordt in zijn woonplaats, het dorp Lotingen, bezocht door sergeant Amadeus Koch. Hij maakt zich bekend als administratief secretaris van de procureur van Königsberg, en hij heeft een dringend verzoek: Stiffeniis moet mee om een moordzaak te onderzoeken. De procureur blijkt van die taak ontheven te zijn ten voordele van Stiffeniis. Waarom hij speciaal voor die taak gekozen is, wordt hem pas duidelijk als hij in Königsberg bij het onderzoek betrokken is geraakt. Er zijn al vier doden gevallen, vijf als je de procureur meetelt, die een beroerte kreeg na zijn ontslag. Drie doden zijn op een zelfde manier om het leven gebracht: ze zijn geknield aangetroffen en er is geen verwonding te zien. De vierde dode is een jongeman die in de herberg hielp waar Stiffeniis is ondergebracht.
Stiffeniis dwaalt voor zijn onderzoek door een constant donker en mistig Königsberg, het is erg koud en vaak nat. Een decor dat doet denken aan moordverhalen die spelen in Londen, ook altijd mistig en koud in die tijd. De politieke situatie doet nog een duit in het donkere zakje: het is de tijd waarin de dreiging van Napoleons kant voelbaar is, een tijd waarin iedere onbekende een spion is, een tijd waarin het leger dominant aanwezig is.
Er vallen nog meer doden, die al of niet het werk zijn van de gezochte moordenaar. Stiffeniis dwaalt en blundert, maar natuurlijk lost hij tenslotte de zaak op, waarbij hij na een tijdje geholpen wordt door Immanuel Kant, de man die in het leven van Stiffeniis al eerder een rol speelde. Hoe diens steun allemaal filosofisch gezien in elkaar steekt, dat ga ik niet proberen uit te leggen. Het is prima te volgen in het boek, wees niet bang voor ingewikkeld getheoretiseer!

Het is een meeslepende historische thriller, met een mooie sfeertekening, die het begin van de forensische methodiek beschrijft. De schrijver blijkt een echtpaar te zijn, hij is docent Engels, zij doceert filosofie. Ze hebben goed werk afgeleverd!

Isbn 978 90 214 3525 1 Paperback 448 pagina's | Em. Querido's Uitgeverij | februari 2009
Oorspronkelijke titel 'critique of criminal reason' vertaald door Arthur de Smet
© Marjo, juli 2009
Lees de reacties en/of reageer, klik HIER