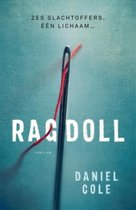 Ragdoll
Daniel Cole

Gehuld in een lange zwembroek en verwassen Bon Jovi T-shirt spoedt William Layton-Fawkes, alias Wolf, zich naar de plaats delict. Het is vier uur 's nachts en zijn werkkleding zit nog in de was. Hij hoeft geen lange reis af te leggen. De blauwe lichtbundels buiten zijn flat, verraden dat de misdaad op een steenworp afstand van zijn bed is gepleegd. Op de vierde verdieping wordt Wolf door een brakende agente opgewacht. Dat belooft weinig goeds.

Zijn collega Emily Baxter is minder aangedaan. Ze straalt zelfs en beweert dat het een zaak is die je maar één keer in je carrière tegenkomt. Vol verwachting troont ze hem mee naar het lijk waarna ze haar blik onderzoekend op Wolfs gezicht richt. Het lichaam lijkt boven de vloer te zweven. Wolf kijkt nog eens goed en ziet dan dat het met behulp van honderden draden aan twee grote haken in het plafond is bevestigd. Het lijkt wel of iemand een luguber kunstwerk heeft willen maken. En dan ziet Wolf het. Niet de draadconstructie maar het lijk zelf vormt de ware aandachtstrekker.

Van dichtbij is goed te zien dat het lijk uit lichaamsdelen van meerdere mensen bestaat. De moordenaar heeft ze met grove steken aan elkaar bevestigd. De lijkschouwer concludeert vrijwel meteen dat de lichaamsdelen post mortem zijn verwijderd. Maar liefst zes mensen zijn voor het maken van de lugubere lappenpop om het leven gebracht. Wanneer Wolf het hoofd eens beter bekijkt, herkent hij het. Het is Naguib Khalid, de seriemoordenaar die zijn leven verwoestte. Het kan Khalid echter niet zijn. Die zit immers in de gevangenis.

Voor Naguib Khalid werd opgesloten was de rechtbankjury niet van zijn schuld overtuigd. De moordenaar had een aantal gruwelijke misdaden op zijn geweten en Wolf had zelfs regels overtreden om hem veroordeeld te krijgen. Toch sprak de jury hem vrij. Toen Wolf, die de rechtszaak bijwoonde, dat hoorde, knapte er iets in hem. Hij vloog de moordenaar aan. Een bewaker wist op het nippertje te voorkomen dat Wolf de man doodsloeg. Khalid kwam vrij en Wolf verdween in een psychiatrisch instelling. Terwijl Wolf moest bewijzen niet krankzinnig te zijn, sloeg Khalid opnieuw toe. Hij stak een jong meisje in brand.

Wolf heeft gelijk. Het hoofd is van Naguib Khalid. Hoe heeft de moordenaar het voor elkaar gekregen een veroordeelde crimineel ongemerkt uit de gevangenis te halen en te doden? Wanneer Wolf ontdekt hoe de dader te werk is gegaan, beseft hij onmiddellijk dat het om een zeer geraffineerde misdadiger gaat. Wie de andere vijf slachtoffers zijn, is nog niet bekend. Ook begrijpt Wolf niet waarom de hand van de lappenpop naar het raam van zijn eigen flat wees. Dan wordt hij door zijn ex-vrouw Andrea benaderd. Andrea, die journaliste is, is duidelijk overstuur. Ze vertelt dat ze foto's heeft ontvangen. Foto's van de menselijke lappenpop. Bij de foto's zat een lijst. Een lijst met zes namen. Achter elke naam staat een datum in de nabije toekomst. Het is een dodenlijst.

Ragdoll bewijst hoe belangrijk het is om niet alleen boeken van de gevestigde orde te lezen maar juist ook nieuwkomers een kans te geven. Dit is een debuut om je vingers bij af te likken. Het verhaal begint al meteen spannend en de spanning neemt alleen maar toe. De rillingen liepen me over de rug. Hoofdpersoon Wolf is bijzonder krachtig neergezet maar ook de andere personages zijn uitstekend uitgewerkt. Zo zijn Wolfs collega's heel divers, van een vrouw die een oogje op hem heeft en een ijverige nieuwkomer tot doorgewinterde collega's die alles al eens hebben meegemaakt.

Niet alleen de inhoud van het boek is om van te smullen, ook aan de vormgeving is de nodige aandacht besteed. Het boek is namelijk op een bijzondere manier gebonden. Regelmatig duiken rode strengen draad op waardoor het lijkt of de bladzijden met naald en draad aan elkaar zijn gezet. Doet dat je ergens aan denken? Op de cover van het boek staat een citaat van M.J. Arlidge. Hij schrijft: "Als je Se7en goed vond, vind je dit geweldig!". Hij heeft beslist niet gelogen. Ragdoll is een absolute aanrader!

ISBN 9789024574988 | paperback | 399 pagina's | Luitingh-Sijthoff | februari 2017
Vertaald door Roelof Posthuma
© Annemarie, 7 maart 2017
Lees de reacties op het forum en/of reageer, klik HIER