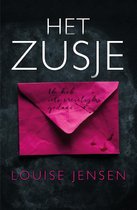 Het zusje
Louise Jensen

Al maanden sleept het leven van Grace zich moeizaam voort. Haar vriend Dan moedigt haar aan de draad weer op te pakken maar het lukt Grace niet. Terwijl Dan met zijn vrienden voetbalt en de kroeg induikt, praat Grace thuis tegen haar kat Miekie. Haar hoofd tolt nog altijd van de vreselijke gebeurtenis die een paar maanden geleden haar leven volledig op zijn kop zette. Charlie is dood. Haar beste vriendin is er niet meer.

Tijdens de uitvaartdienst is Charlies moeder Lexie vreselijk tegen haar tekeer gegaan. Ze gaf Grace de schuld van Charlies dood. Steeds als Grace aan die vreselijke dag terugdenkt, lijkt de knoop in haar maag te groeien. Charlie was haar redder in nood toen ze als jong meisje, na een gruwelijke gebeurtenis, bij haar grootouders introk en naar een andere school in een andere stad moest. Als Charlie die eerste schooldag niet voor haar in de bres was gesprongen, was ze misschien de rest van haar schooltijd het slachtoffer van pestkoppen geweest.

Grace heeft nooit geweten waarom Charlie op haar achttiende ineens verdween. Toen ze jaren later weer opdook was er geen tijd voor een verklaring. Nu spoken de laatste woorden van Charlie dagelijks door haar hoofd:

"Ik heb iets vreselijks gedaan, Grace. Ik hoop dat je me kunt vergeven."

Grace heeft geen idee waar Charlie op doelt. Charlie is helemaal niet tot vreselijke dingen in staat. Heeft het soms met Charlies vader te maken? Kort voor Charlie verdween, probeerde ze haar vader op te sporen. Heeft ze hem gevonden? Grace besluit ook naar hem op zoek te gaan. Wie weet kan hij haar meer vertellen over de jaren dat Charlie ver bij haar beste vriendin vandaan was.

Er zit niets anders op dan Lexie, die gelukkig weer wat gekalmeerd is, te benaderen. Charlies moeder heeft altijd steevast geweigerd de naam van Charlies vader te onthullen maar dit keer is ze loslippiger. Charlie is geboren uit een eenmalig samenzijn van Lexie en Paul Lawson, een muzikant. Grace heeft geen idee hoe ze hem op moeten sporen. Simpelweg googelen heeft geen zin want er blijken wereldwijd heel wat Paul Lawsons te bestaan. Gelukkig komt Dan op het lumineuze idee een oproep op internet te plaatsen. Wie weet is Paul Lawson nog steeds muzikant of herinnert iemand zich hem van vroeger.

Dans idee blijkt briljant te zijn. Binnen de korte keren meldt ene Anna zich. Ze beweert Paul Lawson te kennen. Wanneer Grace haar in een cafeetje ontmoet, klikt het onmiddellijk. Anna vertelt Grace tot haar grote verbazing dat ze een dochter van Paul is en dat haar vader niet meer leeft. De aanvankelijke teleurstelling slaat vrijwel meteen om in enthousiasme. Anna is een halfzusje van Charlie! Zonder aarzelen neemt ze Anna in haar leven op en wanneer haar nieuwe vriendin zonder woonruimte komt te zitten, biedt ze haar meteen de logeerkamer in het huis van haar en Dan aan. Nog altijd verblind door verdriet, beseft Grace niet dat het nooit verstandig is vreemden onderdak te verschaffen.

Auteur Louise Jensen groeide op met de boeken van Enid Blyton. Op haar website schrijft ze dat ze als kind ver voorbij bedtijd, vechtend tegen de slaap, keer op keer de avonturen die haar vrienden – want zo voelde het – beleefden las. Haar leraar Engels moedigde haar liefde voor lezen aan en al snel was Louise door alle boeken van de schoolbibliotheek heen. Haar eerste boek bestond uit zes aan elkaar geplakte bladzijdes. Nadat ze als dertiger een auto-ongeluk kreeg, pakte ze het schrijven weer op. Dit ronduit verrukkelijke debuut is het resultaat. Ook wie niet weet dat Louise Jensen Brits is, weet na het lezen van het eerste hoofdstuk meteen dat het hier om een onvervalste Britse thriller gaat.

Het zusje gaat over een kwetsbare vrouw die met open ogen in een valkuil loopt. Direct nadat Anna bij haar en Dan is ingetrokken, gebeuren er vervelende en zelfs ronduit beangstigende dingen. Is het wel verstandig om Anna zomaar te vertrouwen? Hoewel ze Charlies halfzusje is, is ze ook een vreemde. En waarom lijkt Dan zo van de aanwezigheid van de aantrekkelijke Anna te balen? Grace negeert alle negatieve gebeurtenissen en omarmt het feit dat ze in Anna een deel van Charlie heeft teruggevonden. Als lezer voel je haarfijn aan dat Grace gevaar loopt maar wie er precies achter de griezelige gebeurtenissen zit, blijft lange tijd een raadsel. Is het Anna of toch niet? De intieme en indringende sfeer van het verhaal hebben me volledig ingepakt. Ik kon mijn nieuwsgierigheid naar de afloop niet bedwingen en heb het boek in één ruk uitgelezen. Van deze schrijfster wil ik absoluut meer lezen en ik wacht dan ook vol spanning op de vertaling van haar tweede boek, getiteld "The Gift".

ISBN 9789400508439 | paperback | 351 pagina's | A.W. Bruna Uitgevers | mei 2017
Vertaald door Mary Bresser
© Annemarie, 4 juni 2017
Lees de reacties op het forum en/of reageer, klik HIER