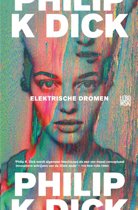 Elektrische dromen
Philip K. Dick


Elektrische Dromen is een bundel van tien verhalen van Philip K. Dick, die misschien bij filmkenners bekend is omdat zijn verhalen verfilmd zijn (o.a. Total Recall, Blade Runner, Minority report). Het zijn sciencefictionverhalen, bizar vaak, maar tegelijk ook zo herkenbaar. Ze gaan namelijk over mensen, en al is de situatie waarin ze verkeren nog zo vreemd, het blijven mensen zoals u en ik.

De verhalen worden ingeleid door mensen die zich veelal grondig hebben verdiept in de schrijver en zijn werk, omdat ze een verhaal gingen verfilmen. Soms is dat storend, omdat ze de clou weggeven, eigenlijk hadden die inleidingen beter epilogen kunnen zijn.

Wanneer de verhalen precies geschreven zijn is niet bekend - ergens tussen 1950 en 1980 - dan is het grappig te lezen over bepaalde sciencefictionachtige dingen in het verhaal die nu voor ons al heel normaal zijn, of binnenkort gaan worden. Humor: dat begint al in het eerste verhaal:

'Wat een vreemd pak hebt u aan,' merkte de robot-ov-chauffeur op. Hij schoof zijn deur open en kwam tot stilstand aan de stoeprand. 'Wat zijn die ronde dingetjes?'
'Dat zijn knopen,' verklaarde George Miller.'

Zoals wij ook in musea gaan kijken hoe mensen in vroeger tijden leefden, zo doen de mensen dat ook in dit verhaal dat 'Museumopstelling' heet. George is verantwoordelijk voor de afdeling waar de twintigste eeuw te zien is. Maar het museum blijkt niet zo star en doods te zijn als wij dat kennen: de scene is interactief (virtual reality) en dat heeft vreemde gevolgen. Niet dat Miller het vervelend vindt!
Het hoeft niet maar je kan aan dit verhaal betekenis meegeven: oude tijden zijn zo gek nog niet. Niet alle uitvindingen brengen vooruitgang.

Er is het verhaal over het oude vrouwtje, wel 350 jaar oud, dat als het ware een ruimteschip 'kaapt', tot wanhoop van de bestuurders want de Aarde waar zij heen wil, die bestaat niet, dat is een mythe. Natuurlijk doen zij een ontdekking!

'De opgehangen vreemdeling', een heel akelig verhaal, over het ontmaskeren van mislukkelingen die nog niet compleet geïndoctrineerd zijn. Een 'mislukkeling' wordt ontmaskerd. Akelig idee: dat iedereen zodanig geprogrammeerd wordt dat de machtswellustelingen alles in handen krijgen.
Een soortgelijk verhaal is het verhaal dat De Kapmaker heet. Wie een kap draagt kan niet doorgelicht worden, en is dus onbekend voor de ander. Degenen die zich braaf laten doorlichten pikken het niet dat er dissidenten zijn. De afloop is evenwel niet hetzelfde als bij De Opgehangen Vreemdeling.
Gelukkig maar, Philip K. Dick had toch niet zo'n zwarte kijk op onze aarde.

Maar verbeelding en fantasie had hij zeer zeker wel. En zoals gezegde: gevoel voor humor. Het zijn dan ook toen boeiende verhalen, die wel een waarschuwing in zich herbergen over de toekomst, maar die over het algemeen hoopvol blijven. De mens kan wel de fout ingaan, maar er zijn misschien ook wel mogelijkheden om te herstellen.

Philip Kindred Dick (Chicago, 1928 – Californië 1982) was een sciencefictionauteur met cultstatus, vooral bekend vanwege een aantal korte verhalen die tot populaire films werden bewerkt. Vanaf 1952 publiceerde hij een groot aantal sciencefictionverhalen, en vanaf 1960 ook sciencefictionromans. Met The Man in the High Castle won hij de prestigieuze Hugo Award voor SF-auteurs.
Als je de verhalen in de tijd plaatst waarin ze waarschijnlijk geschreven zijn, herken je de dreiging van koude oorlog, het communisme en de angst voor techniek en het verliezen van controle. Veel daarvan is nog steeds actueel.

ISBN 9789048844241| Paperback |240 pagina's | Uitgeverij Lebowski | juni 2018
Vertaald uit het Engels door Irving Pardoen en Johannes Jonkers
© Marjo, 3 september 2018
Lees de reacties op het forum en/of reageer, klik HIER