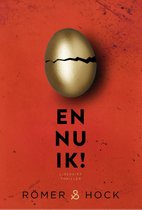 En nu ik!
Römer & Hock

Het openen van de yogastudio ging niet zonder slag of stoot maar Pien Verschuur hield voet bij stuk. Nu dochter Lou in Amsterdam studeert en ook zoon Rick over niet al te lange tijd zijn vleugels uit zal slaan, was ze niet langer van haar voornemen af te brengen. Aanvankelijk zag haar echtgenoot Johan haar plan, en het bijbehorende kostenplaatje, niet zitten maar nu de studio af is, is hij trots op haar. De tuinkamer van hun luxe villa in Aerdenhout is tot een smaakvolle studio verbouwd en de aanmeldingen stromen binnen. Johan moet toegeven dat ze de extra inkomsten goed kunnen gebruiken nu een aantal van zijn projecten jammerlijk mislukt zijn.

Op het openingsfeest is ook een oude bekende afgekomen. Pien verwelkomt Edmond Pieket hartelijk. Een jaar geleden is de voormalig sportleraar van Lou met zijn vrouw Evelien naar Frankrijk vertrokken om daar een yogaschool te openen. Helaas liep het huwelijk op de klippen en zag Edmond zich genoodzaakt naar Nederland terug te keren.

Kort na de geslaagde opening van de yogastudio doet Edmond Pien een voorstel dat ze niet kan weigeren. Hij is bereid haar volledig vrijblijvend in de studio te komen helpen. Pien is blij met zijn hulp maar Lou en Johan zien hem liever gaan dan komen. Allebei waren ze blij dat hij naar Frankrijk was vertrokken. Johan omdat hij na een avond in de kroeg seks met Edmonds vrouw Evelien heeft gehad en Lou omdat Edmond een iets te goede band met haar beste vriendin Chaja had. Als Edmond er niet was geweest, leefde Chaja misschien nog. Lou kan nog altijd niet geloven dat haar beste vriendin zelfmoord heeft gepleegd.

Rick baalt ook. Edmond interesseert hem niet maar door de komst van de yogastudio is hij uit de tuinkamer verbannen. In de prachtige ruimte kon hij volledig zijn eigen gang gaan. Nu heeft hij een slaapkamertje op de bovenverdieping en dat bevalt hem totaal niet. Ook baalt hij van de bezuinigingen die de laatste tijd in het huishouden zijn doorgevoerd. Rick heeft geld nodig. Snappen zijn ouders dan niet dat het leven van een tiener duur is? Wanneer een louche figuur Rick de mogelijkheid biedt snel een leuke som geld te verdienen, hapt hij toe. Wanneer hij korte tijd later beseft dat slapend rijk worden een illusie is, is het al te laat.

De yogastudio loopt als een trein. De vrouwelijke klandizie dweept met Edmond die al snel vol nieuwe plannen zit. Pien vindt zijn enthousiasme aanstekelijk maar toch is er iets dat knelt. Het is haar studio en niet die van Edmond. Gaan zijn ideeën eigenlijk niet veel te ver? Johan wordt steeds zenuwachtiger. Weet Edmond soms dat hij en Evelien het bed hebben gedeeld? Bij Lou overheerst vooral verdriet. Verdriet maar ook woede. Door Edmonds aanwezigheid lukt het haar niet langer het overweldigende verdriet om Chaja weg te stoppen. Als Edmond haar vriendin niet met zijn gladde praatjes had ingepalmd, was Chaja er nu nog geweest. Alles wat is gebeurd, is zijn schuld. De vredige sfeer in de dure villa maakt plaats voor iets anders. Iets ontastbaars dat niet te negeren valt. De familie Verschuur leidt niet langer een sprookjesleven.

En nu ik! is het eerste gezamenlijke boek van het echtpaar Annet Hock en Peter Römer. Meteen na het eerste hoofdstuk is duidelijk dat het tweetal niet alleen op relationeel vlak maar ook op schrijfgebied een uitstekende klik heeft. Het verhaal is mooi opgebouwd, ademt de juiste sfeer uit en boeit van begin tot eind. Hopelijk was dit schrijversechtpaar al van plan samen meer boeken te gaan schrijven want na dit veelbelovende debuut zijn Hock en Römer dat min of meer aan de lezer verplicht.

En nu ik! is luchtig genoeg om op elk gewenst moment te lezen maar beslist geen niemendalletje. Hock en Römer hebben de vertelling van een mooie diepgang voorzien waarbij ook de herkenbaarheid van de gebeurtenissen niet uit het oog is verloren. Ook wie niet in een dure villa woont heeft weleens het gevoel dat alles hem of haar dreigt te ontglippen en er zijn zat ouders die hun leven volledig omgooien op het moment dat de kinderen uitvliegen. Nieuwverworven geluk kan echter als een kaartenhuis in elkaar storten…

ISBN 9789400508699 | paperback | 280 pagina's | A.W. Bruna Uitgevers | mei 2017
© Annemarie, 31 juli 2017
Lees de reacties op het forum en/of reageer, klik HIER