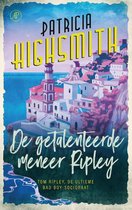 De getalenteerde meneer Ripley
Patricia Highsmith


Tom Ripley is een getalenteerde leugenaar. Er komt altijd wel iets opdagen. Dat is Tom's levenswijsheid. En nu is meneer Greenleaf komen opdagen. Zijn 25-jarige zoon Richard ("Dickie") vertikt het om terug te komen uit Mongibello. Dat zal Tom wel voor elkaar krijgen. Maar er lonkt meer aan de horizon...

Beoordeling
Dat een thriller uit 1955, in 2021, in een gereviseerde vertaling weliswaar, opnieuw op de markt wordt gebracht duidt op een bijzonder fenomeen of op een kostbare vergissing van de uitgever. De hamvraag is of het 66 jaar oude moorddadige verhaal zich staande weet te houden in dit tijdsgewricht waarin de meeste hoofdstukken een lengte van drie bladzijden hebben, de seriemoordenaars van beider kunne hun gang gaan en sadistische elementen regelmatig, maar gelukkig lang niet altijd, de overhand hebben.
Laat ik u gerust stellen. Het is smullen in deze rechttoe rechtaan geschreven thriller met een donkere, psychische toonzetting.

De perfecte moord is gepleegd. Alleen weet de buitenwereld dat niet. Immers, dan zou het geen perfecte moord meer zijn. Dan zou het een gewone niet opgeloste moord zijn. We zien de moord voor onze ogen gebeuren, we zien de ultieme bad boy sociopaat, zoals zo mooi op de voorpagina staat, de dans ontspringen, hebben we de indruk. Maar is dat ook zo?

De kern van het boek is de indringende manier waarop Patricia Highsmith de psyche, de geestesgesteldheid van deze sociopaat beschrijft. Vanaf paginaéén is duidelijk dat we hier te maken met een verwrongen geest die geen enkele vorm van empathie kent. Alles lukt, tegenslagen zijn er om te overwinnen maar van binnen woedt de ene storm na de andere.

Is er wat op aan te merken? De humor ontbreekt, er zijn geen zijlijntjes en natuurlijk is er hier en daar sprake van ouderwets taalgebruik. Wie gebruikt er nog een uitdrukking als ' kleinsteeds provincialisme'? Maar het doet niets af aan het fraaie verhaal met een boeiende en ingenieuze opbouw, zonder een greintje sleet.

Waarom is dit verhaal zo bijzonder? Er zijn twee redenen voor; Highsmith is de eerste auteur die schrijft vanuit het hoofd van Ripley. En Ripley op zijn beurt is de good guy die de bad guy netjes moet brengen naar waar hij thuis hoort. Maar dat loopt wat anders in dit boek, revolutionair anders. De lezer kruipt in het hoofd van de schurk, die Ripley al snel wordt. En als lezer wil je maar een ding: dat de schurk het er goed af brengt. Een totale omkering van het gebruikelijke patroon. En daarna veelvuldig toegepast door vele, vele andere auteurs.

ISBN 9789029543118 | Paperback | 320 pagina's | De Arbeiderspers | januari 2021
Vertaald door Jean Schalekamp
© Jac Claasen, 5 mei 2021
Lees de reacties op het forum en/of reageer, klik HIER