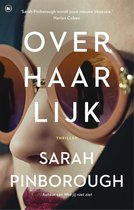 Over haar lijk
Sarah Pinborough

Marcie verkeert sinds haar huwelijk met de gescheiden Jason in de chique kringen van Savannah, waar ze zich redelijk staande weet te houden. Gezien haar afkomst is dat best bijzonder. Ze is niet de enige: een van hun vrienden, William, compagnon van Jason, is van een reis naar Europa teruggekomen met een nieuwe echtgenote. Zijn eerste vrouw Eleanor is aan kanker overleden. Keisha, de mooie jonge vrouw van Nigeriaanse afkomst, heeft eveneens een duister verleden. En Marcie ziet heus wel dat Jason zijn blik niet van haar kan afhouden.

Natuurlijk zwijgen de vrouwen over hun verleden, maar misschien is het wel daardoor dat ze elkaar goed blijken aan te voelen. Te goed misschien. Keisha is alleen met William getrouwd om zijn geld, ze hoopt snel te erven.

Als William voor dood gevonden wordt constateert de politie dat hij vergiftigd is. Terwijl hij met ernstige klachten in het ziekenhuis ligt, wordt de zaak onderzocht. Ook Marcie doet onderzoek, nadat ze eerst beschuldigd is. Keisha is tevens verdachte, als ook Jason. Deze laatste heeft net als de dames een motief.
De zaak is ingewikkeld. Er blijkt nogal wat gelogen en bedrogen te zijn, ook door andere personages.
En in Savannah, gelegen in Georgia, een van de zuidelijke Staten, heerst toch al een broeierige sfeer. Voodoo is er vrij normaal. Maar is er echt wel sprake van magie, of is er iemand die dit soort praktijken tot eigen bate weet aan te wenden?

'Zal ik je eens iets vertellen?' Kate Anderson (de politie-inspecteur) zat tegenover Marcie aan de kleine tafel in de verhoorkamer en keek een beetje geamuseerd. 'Ik heb nog nooit aan een zaak gewerkt waarin mijn grootste probleem was dat er zo veel verdachten waren die stuk voor stuk de dader konden zijn. Mijn tweede probleem – en dit moet je niet persoonlijk opvatten – is dat jullie stuk voor stuk zulke nare mensen zijn.'

Dat zal je maar gezegd worden. Of de personages inderdaad zulke akelige mensen zijn, is aan de lezer om te bepalen. Bij alle drie vindt hun handelswijze een oorzaak in hun bepaald niet makkelijke verleden, dat door de schrijfster langzaam ontrafeld wordt. Te langzaam misschien, het is alsof de schrijfster niet echt kon kiezen wat voor soort boek ze zou schrijven, de beloofde thriller begint pas ruim over de helft.

Tevoren is het een roman over mensen die inderdaad niet zo aardig lijken. Zij horen tot de rijken, en hun gedrag is bepaald niet vlekkeloos. Het zijn egoïsten die beheerst worden door jaloezie en hebzucht. Het element magie maakt het verhaal wat lichter, al denken de personages daar natuurlijk anders over.
Rijkdom, passie, drugs en een moord, dat is wel voldoende om de lezer een aantal uren te vermaken. Maar op het puntje van je stoel? Nee, dat niet.

De Britse Sarah Pinborough (1972) schreef al meer dan twintig boeken in allerlei genres. Dit is het vijfde dat in het Nederlands vertaald werd.

ISBN 9789044359107 | paperback | 400 pagina's | Uitgeverij House of the Books | september 2020
Vertaald uit het Engels door Els Franci-Ekeler

© Marjo, 16 oktober 2020

Lees de reacties op het forum en/of reageer, klik HIER