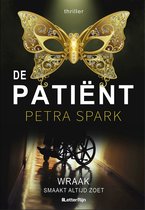 De Patiënt
Petra Spark


Vincent Roels en Erik Vermoes zijn al jaren dikke maatjes, maar hun levens lijken niet op elkaar.
Voor Vincent is de verkeerde kant van de munt boven komen te liggen. Zijn moeder ging op jonge leeftijd al over op zelfdoding. Ze was manisch-depressief, dat wisten haar man en zoon wel. Maar toch, Vincents vader is er nooit echt overheen gekomen. Vincent wel? Hij betwijfelt het zelf, is er beducht voor dat hij genetisch besmet is. Hij werd al jong gefascineerd door het menselijk lichaam en was graag chirurg geworden. Maar dat bleek te hoog gegrepen, en hij werd verpleger.

Erik daarentegen is geboren in een adellijke familie, er was geld, en hij had hersens. Erik heeft een drukke baan waarvoor hij vaak naar het buitenland moet. Maar hij heeft ook een moeder die door de ziekte ALS aan een rolstoel gekluisterd is en veel zorg nodig heeft. Ze verplaatst zich in een hoogtechnologische rolstoel, voorzien van een wangsensor. Spreken kan ze nog uitsluitend via een computerstem.

Een en een is twee: Vincent wordt inwonende verpleger bij Peggy, Eriks moeder. Hij solliciteert nog wel naar iets anders, maar komt niet aan de bak.
De problemen beginnen als op een dag de spraakcomputer van Peggy een bepaalde zin uitspreekt.

'Ik ken jouw geheim, ik weet wat je met dat meisje deed.'

De schrik slaat Vincent om het hart. Kent Peggy zijn geheim? Ja, hij heeft ooit iets heel ergs gedaan, maar samen met Erik heeft hij het in de doofpot weten te stoppen.
Het is evenwel niet alleen wat Peggy zegt, er gebeuren meer akelige dingen. Vincent denkt aanvankelijk dat hij te veel valeriaanthee heeft gedronken of, dat kan ook, hij wordt ook gek, net als zijn moeder. Is dat zo? Of is er iets heel anders aan de hand? Is er überhaupt nog iemand die hij kan vertrouwen?

Na een kalm en gezapig begin (maar het is dan ook een hete zomer) mondt het verhaal toch uit in een zenuwslopende thriller! Wat is hier toch allemaal aan de hand? Als lezer weet je in het begin niet of je de hoofdpersoon Vincent wel sympathiek kunt vinden, maar als je daar toe wel geneigd bent, komen er weer nieuwe wendingen en weet je het niet meer.
Dan blijkt ook dat je als lezer er je hoofd bij moet houden, het is een knap doordachte thriller, die – eenmaal op gang – leest als een trein.

Petra Spark (Vilvoorde, België) debuteerde in 2017 met de thriller Artikel13, bij Houtekiet, een imprint van Veen, Bosch & Keuning. Vervolgens verschenen Eén kans op zes, Gruwelijke Gave en Astarte.

ISBN 9789493192454 | Paperback| 320 pagina's | Uitgeverij LetterRijn| oktober 2022
© Marjo, 6 december 2022
Lees de reacties op het forum, klik HIER