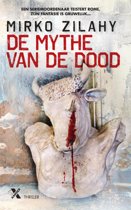 De mythe van de dood
Mirko Zilahy

Rome. Commissaris Enrico Mancini is nog aan het bekomen na het overlijden van zijn geliefde, als hij dringend wordt verzocht zich naar Rome te begeven: er is een gruwelijke moord gepleegd. Men heeft Mancini nodig, omdat hij al eerder liet zien hoe hij als het ware in de huid van een moordenaar kan kruipen.

De vondst van de lichamen stelt de recherche voor veel vragen. Het zijn een tuinman en zijn twee zoons, die na hun dood als een soort beeldhouwwerk zijn neergezet. Het duurt niet lang of de politie heeft in de gaten dat ze te maken hebben met een seriemoordenaar, die zijn slachtoffers steeds op een mythologisch tafereel laat lijken. Laocoon, Sirene, Scylla, de Minotaurus volgen elkaar in snel tempo op. Heeft de moordenaar haast? Zorgvuldigheid laat hij alleen zien wat betreft zijn composities, hij lijkt zich nauwelijks zorgen te maken over de slordigheid waarin hij de plaats delict achterlaat.

Toch slagen de commissaris en zijn mensen er niet in hem voor te zijn. Dat komt omdat zij geen idee hebben waarom de man deze bepaalde mythologische wezens uitkiest, en kunnen ze niet voorspellen wat dan de volgende zal zijn. Mancini is wel zo slim om een mannetje te zetten op recente verdwijningen, maar toch is hij niet snel genoeg. De moordenaar lijkt steeds van schuilplaats te wisselen. Tja, onder Rome bevinden zich catacomben en rioolstelsels, meer dan genoeg plekken om je te verschuilen.

Terwijl zijn baas hem maant op te schieten omdat hij de adem van de pers in zijn nek voelt, en de geest van zijn vrouw nog om hem heen hangt, werkt Mancini gefrustreerd door om de moordenaar te vinden. Maar de dader, die men de Beeldhouwer noemt, voelt zich bedreigd, en wijkt van zijn patroon af. Hij valt een collega aan, hetgeen Mancini nog razender maakt. Omdat de lezer ook de dader volgt in zijn waanideeën, wordt de strijd tussen de twee karachten sterk gevoeld: de waanzinnige gedreven moordenaar, die een missie te vervullen heeft, vertoont veel gelijkenissen met de man die op hem jaagt.

De locaties zijn bekende en minder bekende plekken in Rome. De (ondergrondse) wegen van de stad zullen minder bekend zijn maar zijn nog complexer.
Complex is dit verhaal ook. Er zijn veel personages, waarvan er ook velen een vertelperspectief krijgen. Er wordt af en toe terugverwezen naar de eerdere moordzaak. Natuurlijk wordt er vooral ingegaan op de achtergrond van de Beeldhouwer, maar ook de privélevens van de speurders krijgen een plekje. Komt daarbij nog dat het allemaal draait om de mythologie. Dat is best lastig als je daar niet mee bekend bent, ook al wordt het allemaal prima uitgelegd.

Het verhaal blijkt een vervolg te zijn op het debuut van Mirko Milahy 'Schaduw' met dezelfde hoofdpersonen. Zelfs het verhaal is een soort vervolg, al is het voorafgaande verhaal een andere moordzaak. Beide thrillers spelen in Rome. In een epiloog legt Zilahy uit dat de uitgangspunten van deze twee thrillers wel anders zijn, maar dat ze elkaar aanvullen. Het centrale thema van 'de mythe van de dood' is transformatie. De belangrijkste personages maken op een of andere manier een transformatie door.

Mirko Zilahy (Rome, 1974) studeerde af in vreemde talen en literatuur met een scriptie over Bram Stokers Dracula. Dat hij zich bezig hield met het vertalen van Bram Stoker, Peter Murphy en Donna Tartt, heeft duidelijk zijn vruchten afgeworpen.
ISBN 9789401608770 | paperback | 382 pagina's | Uitgeverij Xander | mei 2018
Vertaald uit het Italiaans door Aniek Njiokiktjien
© Marjo, 23 augustus 2018
Lees de reacties op het forum en/of reageer, klik HIER