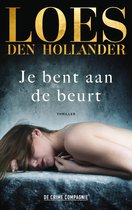 Je bent aan de beurt
Loes den Hollander

'Opleiding en levenservaring zijn geen garantie dat je leugens doorziet. Denk niet: dit gebeurde met mij omdat ik niet goed oplette of omdat ik een bepaald soort beschikbaarheid uitstraalde of wat er verder te bedenken valt aan mogelijke drogredenen. Het kan met iedereen gebeuren, lieve meid, op een verkeerd paard wedden is al talloze vrouwen overkomen.'

Aan het woord is Amber. Als psychiater staat ze vrouwen bij die flink in de knoei zitten doordat ze mishandeld zijn door een partner, fysiek en/of psychisch. Geen enkele vrouw verdient dit soort molest,' zegt ze tegen Tessa, haar patiënt.
Amber is ervaringsdeskundige. Net als haar zus Paula heeft ze flink wat voor haar kiezen gekregen toen ze nog erg jong en weerloos was. Hun vader was een man tegen wie ze niet op konden.
Beiden helpen nu lotgenoten. Op nogal onorthodoxe wijze.

Paula werkt als afdelingshoofd op de afdeling geriatrie waar Tessa werkt. Na de dood van haar man Levi is Tessa weer gaan werken. Haar dochters zijn volwassen en het huis uit. Nu heeft Tessa een man ontmoet. Zouden haar dochters dat wel fijn vinden?
Het blijkt het minste van haar zorgen, want David is niet de man voor wie hij zich uit geeft. Hij is een manipulator, iemand die meedogenloos in zijn methoden om te krijgen wat hij wil. En Tessa is niet zijn eerste slachtoffer. Ze lijkt niet los van hem te kunnen komen, ook niet als ze toch echt denkt duidelijk gemaakt te hebben dat ze dit niet wil. Hij stalkt en bedreigt haar en haar dochters.

Dan ontmoet ze Josephine, de ex van David. Hij heeft haar overigens verteld dat Josephine dood was! Dus ook dat is niet waar. Maar helaas voor Tessa is ook Josephine niet degene voor wie ze zich uitgeeft.

Tessa raakt verwikkeld in een onmogelijke situatie. Als haar baas, Paula dus, dat opmerkt, verwijst deze haar door naar haar zus.
Amber laat het niet bij praten, zij en Paula weten allang dat dit soort foute mannen er steeds mee weg weten te komen. Ze hebben zo hun eigen methoden…

In dit verhaal verzamelt Loes den Hollander een aantal verknipte figuren. Je mag hopen dat dit in werkelijkheid niet gebeurt! Maar behalve dat ze een netelig probleem aan de orde wil stellen, wil de schrijfster natuurlijk ook een spannend boek schrijven. En dat is haar gelukt!
Niet alleen is de plot spannend, je zit als lezer ook met twijfels of de personages wel zo recht door zee zin. De enige van wie je zeker weet dat hij het niet is, is David…

Loes den Hollander (1948, Nijmegen) won in 2021 de Gouden vleermuis, de Nederlandse oeuvreprijs voor een binnenlandse of buitenlandse auteur van meerdere spannende boeken.

ISBN 9789461096005| paperback| 350 pagina's | Uitgeverij the Crime Compagnie| oktober 2021
© Marjo, 8 januari 2022
Lees de reacties op het forum, klik HIER