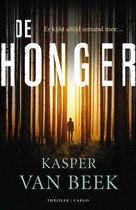 De honger
Kasper van Beek


Psychotherapeut Liam Sandberg heeft een goedlopende praktijk in Oud-Zuid. Hij heeft een fijn gezin met zijn vrouw Evi en nu vijftienjarige dochter Yana. En ze hebben een vakantiehuisje in Limburg dat hij aan het opknappen is. Daar kan hij eventuele frustraties in kwijt en het is heerlijk om er weekendjes door te brengen.
Een fantastisch leven dat op zijn kop komt te staan als ze ontdekken dat een onbekende hen al een jaar lang in hun eigen huis heeft gefilmd!
Thuisgekomen van een weekendje Limburg vinden ze een briefje op de afstandsbediening, PLAY, staat er op. Liam drukt op de knop en tot hun afgrijzen zien ze alle drie hun leven op film verschijnen. In alle kamers hangen verborgen camera's! Letterlijk alles staat op film, compleet met datum.
Ze waarschuwen de politie, maar besluiten de opnames niet mee te geven, zodat de politie er weinig mee kan. Er is niet aantoonbaar ingebroken, er is niets gestolen. Wie heeft die camera's geplaatst? En waarom wil iemand de familie Sandberg elke minuut van elke dag filmen?
Het is het begin van een ellendige periode waarin de waarheid niet meer verborgen kan blijven.
Rechercheur Isabella Neri, net terug van gedwongen verlof, buigt zich over de zaak. Ze wordt tegengewerkt door haar collega's, maar omdat ze helemaal geen zin heeft om in een duf kamertje in haar eentje papierwerk te gaan doen, is zij degene die bepaalde feiten voor het daglicht haalt, die anders verborgen zouden zijn gebleven.
In een poging haar op een zijspoor te zetten wordt ze op een cold case gezet, een meisje dat een jaar eerder verdwenen is. Als Isabella de lijst opvraagt van vermiste meisjes, heeft ze de link met de zaak Sandberg. Al ontdekt ze dat niet meteen, Isabella bijt zich vast in de zaak.
Maar er moet nog heel wat gebeuren voor het onderzoek echt op gang komt. Misschien is het dan al te laat voor Yana die intussen ook verdwenen is.

Het idee achter deze thriller is akelig: dat je zomaar bekeken kan worden in al je doen en laten zonder dat je het weet! Als je die persoon kent is dat al een eng idee, maar door iemand die je niet kent? Dat is nog erger. Want waarom zou iemand willen zien wat een gewoon mens de hele dag doet?
Maar: iedereen heeft wel geheimen, en dat kan heel onschuldig zijn, maar ook heel gênant. Of gevaarlijk, al zal de gemiddelde lezer niet te maken hebben met wat er in dit boek gebeurt.
Het verhaal komt rustig op gang, en heeft bijzondere verhaalwendingen. Het is een verslavend boek, je legt het niet zomaar weg.
Wie is er zo gek dat hij – of zij natuurlijk – maar liefst zeventien camera's verbergt in een huis van een ogenschijnlijk heel normaal gezin?
Misschien is de bron van het kwaad niet zo'n origineel gegeven, maar het is absoluut heel goed uitgewerkt. Er is een heleboel aan de hand, wat ook nog het leven van onschuldige buitenstaanders kost. En de Sandbergs zijn natuurlijk evenmin veilig.

Kasper van Beek (1985) is film- en televisieproducent. Hij is medeoprichter van twee productiebedrijven, waarmee hij een breed scala aan nationale en internationale projecten maakt. Hij woont en werkt in Amsterdam. Zijn debuut Vogelvrij stond op de shortlist van de Gouden Strop en de Schaduwprijs. De honger is een uitstekende opvolger, dus de lezer wil zeker meer boeken van zijn hand.
ISBN 9789403188003 | paperback | 288 pagina's | Uitgeverij Cargo | mei 2020

© Marjo, 29 mei 2020

Lees de reacties op het forum en/of reageer, klik HIER