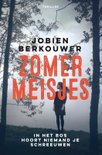 Zomermeisjes
Jobien Berkouwer

Rechercheur Lot van Dijk was gestationeerd in Amsterdam, maar na haar opleiding tot profiler werd ze overgeplaatst naar Twente. Dat valt haar als stadse niet mee, dan is ze ook nog de enige vrouw binnen een team van alleen maar mannen. Mannen die haar wantrouwend benaderen.

Op de dag dat er een lichaam wordt gevonden, van een jong meisje, dat op een gruwelijke manier vermoord is, kan ze zich eindelijk bewijzen. En die mannen die vinden dat ze achter het aanrecht hoort te staan, die zal ze wel eens bewijzen dat ze haar mannetje staat! Lot weet al snel zeker dat ze te maken hebben met een seriemoordenaar. Hij zal zeker op nieuw toeslaan, als hij het al niet gedaan heeft. Het dode meisje blijkt namelijk niet te passen bij de beschrijving van het meisje dat vermist is.

De mannen zullen er langzaam achter moeten komen dat ze goed is in haar werk. Ze zal zeker bewijzen dat ze weet wat ze doet, en dat ze niet onderdoet voor een man. Als een tweede meisje gevonden wordt, in een open graf op het kerkhof, moeten ze haar wel voor vol aanzien. Dat de mannen van het bureau het slachtoffer blijken te kennen, maakt alles wel lastiger. Maar ze zet door, dat moet wel, nu het een kwestie is van voorkomen dat er een derde slachtoffer valt.

Het is een spannende thriller, en het zou me niets verbazen als het de eerste van een serie is. Lot van Dijk is een aansprekend personage. Haar strijd tegen het mannenwereldje van het politiekorps, verbergt duidelijk oud zeer, het is dus niet verbazingwekkend als blijkt dat de auteur juriste is en… voormalig hoofdinspecteur van politie. Zij heeft vast met situaties te maken gehad zoals Lot die in het verhaal tegen komt.

Jobien Berkouwer heeft met Zomermeisjes een overtuigend debuut geschreven. Zij schrijft op een aansprekende manier een heel geloofwaardig verhaal. Er is prettig veel aandacht voor de manier waarop de zaak langzaam ontrafeld wordt, met al dan niet verrassende wendingen. En tussendoor zijn er stukken tekst waarin we de moordenaar leren kennen. Nou ja, we weten natuurlijk pas op het laatst wie het echt is, maar we kunnen als lezer mee volgen hoe het komt dat de dader moet moorden. En of Lot op het goede spoor zit, of niet…
Met een – gelukkig - kleine dosis romantiek, en gevoel voor het Twentse leven is het verhaal helemaal af. Lekker misdaadverhaal.

ISBN 9789400507739| paperback| 288 pagina's | Uitgeverij Bruna| juni 2016
© Marjo, 23 december 2016
Lees de reacties op het forum en/of reageer, klik HIER