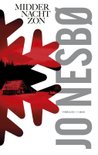 Middernachtzon
Jo Nesbø

Jon is op de vlucht. Op de vlucht voor de dood die hem op de hielen zit. Hij vreest dat hij nergens ter wereld veilig is. Hij heeft immers het vertrouwen van de Visser beschaamd. Een fout die hij met de dood zal bekopen. Dat weet Jon maar al te goed. Toch is zomaar opgeven te eenvoudig. Wie wacht er geduldig af tot er een pistool tegen zijn hoofd wordt gezet? Jon doet dat in ieder geval niet. Hij is naar het meest noordelijke puntje van Noorwegen gevlucht. Het einde van de wereld.

Het dorpje waar Jon belandt beschikt niet over hotels of pensions. Misschien was het niet zo verstandig om de nacht in de plaatselijke kerk door te brengen, maar Jon was uitgeput. De volgende dag wordt hij door een jongetje gewekt. De jonge Knut steekt zijn nieuwsgierigheid niet onder stoelen of banken en Jon vertelt hem het leugentje dat hij eerder al aan de plaatselijke dronkenlap vertelde: hij is naar Lapland afgereisd om te jagen. Dat er in werkelijkheid jacht op hem gemaakt wordt, verzwijgt hij wijselijk.

Knut is niet alleen in de kerk. Hij houdt zijn moeder, die koster is, gezelschap. Een groot deel van de dorpelingen blijkt een streng geloof aan te hangen. Een geloof dat weinig pleziertjes toestaat. Volgens Knut zal Jon als niet-gelovige branden in de hel. Jon hoopt maar dat hem nog even uitstel is gegund. Knuts moeder Lea vindt het gelukkig niet erg dat Jon in de kerk heeft geslapen. Ze biedt hem bovendien een prima alternatief. Als jager kan Jon zijn intrek in de jachthut nemen. Ook mag hij het jachtgeweer van haar echtgenoot lenen. Die komt voorlopig toch niet terug…

In een jachthut aan het einde van de wereld houdt Jon zich verscholen. Hij wacht. Jon is geen jager. Hij is de prooi. Hij had nooit voor de Visser moeten gaan werken maar het geld kwam goed van pas. Jon had dringend geld nodig. Meer geld dan hij op korte termijn met het dealen van drugs zou verdienen. De Visser zag hem onterecht voor een huurmoordenaar aan en Jon liet hem in die waan. Zijn vinger rustte al op de trekker van zijn pistool maar iemand "expediëren" bleek toch moeilijker dan gedacht. Het beoogde slachtoffer bood een uitweg. Een uitweg en geld. Ach, Jon had nooit moeten geloven dat het plan zou kunnen slagen.

In de jachthut aan het einde van de wereld wacht Jon op wat komen gaat. Hij zal gevonden worden, daar twijfelt hij niet aan. Jon wil niet dood. Vooral niet nu hij Lea heeft leren kennen. Hij vindt haar leuker dan verstandig is. Lea's man is uit vissen gegaan en niet meer teruggekomen. Vreemd genoeg lijkt Lea zijn dood niet erg te betreuren en ook Knut gaat niet gebukt onder het verlies van zijn vader. Was Lea's echtgenoot soms geen leuke man? Jon weet dat hij Lea maar beter uit de weg kan gaan. Hij moet zich niet met het leven van de dorpelingen bemoeien, maar soms staat de liefde het verstand nu eenmaal in de weg.

Met Bloed op sneeuw en Middernachtzon is Jo Nesbø een nieuwe weg ingeslagen. Hoewel de twee boeken verschillende hoofdpersonages kennen, zijn de verhalen toch zijdelings met elkaar verbonden. Beide boeken gaan over verliefde, halfbakken huurmoordenaars. Huurmoordenaar Olav uit Bloed op sneeuw werkte voor drugsbaas Daniel Hoffmann terwijl Jon voor Hoffmanns concurrent de Visser werkzaam was. Zowel Olav als Jon zijn erin geslaagd een opdracht grondig te verknallen. In hun wereldje is een oprechte verontschuldiging niet voldoende…

Ook van Middernachtzon heb ik genoten. Het verhaal is melancholiek en grappig tegelijk. Het is een spannend maar niet bloedstollend verhaal over een gevoelige crimineel. Een verliefde huurmoordenaar die zich verschuilt voor zijn bloeddorstige achtervolgers in een dorpje waar anonimiteit een illusie is. Jon is een misdadiger maar bovenal is hij een mens. Een mens met een dubieus verleden maar wellicht ook een mens met een goed hart. Jo Nesbø heeft de top van zijn kunnen nog lang niet bereikt. Met elk boek weet hij mijn verwachtingen opnieuw te overtreffen. Middernachtzon is een pareltje.

ISBN 9789023497882 | paperback | 239 pagina's | Cargo | februari 2016
Vertaald door Annelies de Vroom
© Annemarie, 10 februari 2016
Lees de reacties op het forum en/of reageer, klik HIER