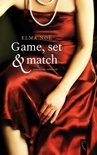 Game, set & match
Elma Noë


Een nieuwe schrijfster die zich op het pad van de jetsetthrillers waagt. Het boek speelt zich af in het Gooi, op een tennisclub of bij de leden daarvan.
Laura en Thomas vormen een ideaal stel. Ze zien er goed uit, komen materieel absoluut niets te kort; ze hebben een goede baan, een bijna-volwassen dochter, een hond en een kat, en ze hebben goede vrienden. Die ze ontmoeten op de tennisclub dus.
Maar we zouden geen verhaal hebben als er niet na vijfentwintig jaar wat onvrede binnensluipt. Thomas vindt de hond vreselijk, en hij vindt de dromen van zijn vrouw, die graag wil gaan 'overwinteren in een warm land' maar onzinnig. Laura is geïrriteerd als hij niet eens wil praten. En ze vindt dat hij te veel drinkt.
Deze onvrede maakt het makkelijk voor Dorinde, de mannenverslindster die haar oog op Thomas heeft laten vallen.
Je ziet het aankomen: Thomas is een watje, zo heel veel moeite hoeft Dorinde niet eens te doen. Maar zij wil meer, ze dringt zich ook bij Laura op, en bij de tennisvrienden. Dat Dorinde zo haar eigen problemen met mannen heeft, dat krijgt de lezer later te horen, maar het weerhoudt haar niet -integendeel zelfs- om steeds weer een andere man te willen veroveren. Die man wil ze dan ook helemaal voor zichzelf. Thomas lijkt een makkelijke prooi, zelfs al is er soms eeningreep door de regisseur nodig. Een regisseur die gaat voor de overwinning, kost wat kost.
De lezer weet dan al - dat staat in de proloog- dat Laura iets akeligs overkomt. Is dat door toedoen van Dorinde? Maar zij is toch een vriendin
van Laura? Komt Thomas op tijd bij zinnen, of is het al te laat?

De woorden game, set & match vormen de drie hoofdstukken. Ken je dan de afloop al? Deze lezer niet, ik moet bekennen dat ik zelfs de tennistermen op heb moeten zoeken. Maar achteraf? Hm, je kan een vermoeden hebben, maar de ontknoping is onverwacht. Voor je bij die ontknoping bent, zijn er al verrassende wendingen geweest, de twee laatste delen van het boek zijn spannend en dan lees je geboeid door.
Daarvoor moet je wel eerst het tragere eerste deel door.
Voor de liefhebber is dit een lekker boek om je vrije tijd aan te besteden. Voor diezelfde liefhebber zijn de setting en de clichés geen probleem.
Elma Noë weet de spanning op te voeren, past de juiste trucjes toe. Ze heeft een vlot boek geschreven, met humor en genoeg soapelementen om te blijven boeien.

Isbn 978 90 6305 567 7 Paperback 246 pagina's | Archipel Uitgeverij | april 2010

© Marjo, april 2010

Lees de reacties op het ofurm en/of reageer, klik HIER