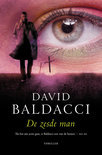 De zesde man

David Baldacci
Sean King en Michelle Maxwell vertolken samen de hoofdrol in dit boek. De oplettende lezer herkent deze personages uit eerdere boeken van David Baldacci. Ze zijn privédetectives met een achtergrond bij de Amerikaanse Geheime Dienst. Ten tijde van dit verhaal reizen ze af naar Maine. Ze zijn door een oude vriend van Sean, advocaat Ted Bergin, gevraagd om te helpen bij de voorbereidingen van een strafzaak. Een cliënt van de heer Bergin is opgepakt op verdenking van moord op zes mensen en zit in afwachting van zijn proces in een zwaar beveiligde staatsgevangenis. Tot een reünie met Seans oude vriend komt het echter nooit. Op weg naar het trefpunt vinden ze de advocaat dood in zijn auto langs de kant van de weg. Hij is omgebracht. Maar door wie? Sean en Michelle willen de waarheid achterhalen. Niet wetende dat zij zichzelf hiermee in een levensgevaarlijke situatie storten.
De cliënt van Ted Bergin heet Edgar Roy. Sinds zijn arrestatie heeft hij zich in zichzelf teruggetrokken en het lukt niemand om contact met hem te maken. Hij is niet aanspreekbaar en zelfs oogcontact is niet mogelijk. Zal het mogelijk zijn om deze man aan het praten te krijgen? Op het eerste gezicht lijkt Edgar Roy een eenvoudig man te zijn. De waarheid is echter dat deze man over een extreem hoge intelligentie beschikt en meewerkte aan een geheim programma van de regering. Een gegeven dat volgens bepaalde partijen niet algemeen bekend mag worden en er ontspint zich een verhaal vol actie, schietpartijen en (politieke) complotten.
Dit is eigenlijk meer een boek voor mannen dan voor vrouwen. Het verhaal leest vlot weg en is heerlijk om te lezen in de achtertuin of om mee te nemen in de koffer naar de vakantiebestemming. Verwacht echter geen diepgang want dan is de teleurstelling groot. De personages blijven oppervlakkig en ook met de geloofwaardigheid van het verhaal is het magertjes gesteld. Het boek staat bol van platte actie, complotten binnen complotten, stoere actiefiguren en meedogenloze slechteriken. Af en toe vond ik het wel moeilijk om bij te les te blijven. Ik begraaf me graag in een boek en vergeet dan even alles om me heen om het dan met een gevoel van spijt weg te leggen als het uit is. Dit boek las ik terwijl ik ook met één oog naar de televisie keek of meezong met een liedje op de radio. En stiekem heb ik af en toe gespiekt hoeveel bladzijden ik nog "moest".
Maar wat maakt het uit: Af en toe een boek als deze tussendoor is beslist niet verkeerd. De vlotte schrijfstijl van David Baldacci is zelfs uiterst aangenaam te noemen. Dit is een schrijver met veel ervaring en dat vertaalt zich naar prettig leesbare boeken
Een kwalitatief goed geschreven verhaal echter met weinig inhoud.
Ooit begon David Baldacci zijn carrière als advocaat maar sinds hij in 1996 debuteerde met "
Het recht van de macht"
heeft hij zich volledig op het schrijven gestort. Inmiddels heeft hij een indrukwekkende lijst boeken op zijn naam staan waarvan er wereldwijd enkele tientallen miljoenen zijn verkocht. Samen met zijn vrouw Michelle heeft hij de Wish You Well Foundation opgericht. Deze stichting zet zich in tegen het analfabetisme in de Verenigde Staten. David Baldacci is een man met een missie.
ISBN 9789022999011 Paperback 384 pagina's | A.W. Bruna Uitgevers | mei 2011
(Ook verkrijgbaar als digitaal boek)
Vertaald door: Hugo Kuipers


©
Annemarie, 27 mei 2011

Lees de reacties op het Leestafelforum en/of reageer, klik HIER
---