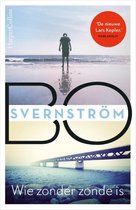 Wie zonder zonde is
Bo Svernström

De elfjarige Olinda is niet meer gezien sinds om half drie de school uitging. Haar ouders waren naar een concert, hun telefoon stond uit, zodat de oppas hen niet kon bereiken. Er wordt na de melding bij de politie onmiddellijk een zoektocht gestart, maar het is te laat.
Sixten, die met zijn vriendje Nicklas ook op zoek is, vindt haar in een rotsspleet is ze dood, haar hoofd ingeslagen met een steen of iets dergelijks. Nog twee tieners waren in de buurt, bezig met hun eigen zaakjes.
En met al die andere mensen die op de plek rondgebanjerd hebben is spooronderzoek vrijwel onmogelijk.
Rechercheur Carl Edson laat buurtonderzoek doen en ondervraagt alle betrokkenen, onder andere de schoolkinderen.

Als ze zoeken naar eventuele recidivisten - het gaat immers misschien wel om een pedofiel - stuiten ze tenslotte op Robert Lindström. En daarmee komen we op de hoofdfiguur en ik-verteller in dit eerste deel.
Robert Lindström werd als elfjarig jongetje verdacht van moord op een vriendje. Hij zou dat gedaan hebben met een blok beton. Hij herinnert zich er niets van, ook nauwelijks iets van wat daarvoor gebeurd is. Na de moord is hij in een pleeggezin geplaatst en heeft een redelijk normaal leven geleid.
Een paar dagen voor de moord op Olinda heeft een journaliste contact opgenomen met Robert. Lexa wil een boek schrijven, en daarvoor ook Roberts verhaal horen, want dat is nooit verteld. Na een paar gesprekken denkt Lexa dat hij die moord helemaal niet gepleegd heeft. Maar Robert is er van overtuigd, hij heeft het toen ook bekend, en wie zou het anders gedaan hebben? Dat is nu net wat Lexa met zijn hulp wil onderzoeken. Ze bezoeken de betrokkenen van toen.
Het wordt allemaal een stuk ingewikkelder als Robert verdacht wordt het meisje Olinda vermoord te hebben.

De verhaallijnen haken zich in elkaar vast en lijken onontwarbaar te worden. Er ligt een schier onmogelijke taak voor Lexa wil zij haar boek kunnen schrijven. Rechercheur Carl Edson heeft er eveneens een hele kuif aan, en hij moet ook nog omgaan met lastige collega's. Er vallen nog meer slachtoffers terwijl het een na de andere personage de schuldige lijkt te zijn. De belangrijkste vraag in deze spannende thriller is of Robert schuldig was, en zo niet, waarom hij dan zelf denkt van wel. Het antwoord op deze vraag heeft namelijk veel consequenties.

Het boek bestaat uit drie delen. In deel een is Robert de ik-verteller, een rol die hij verliest in het tweede deel, om hem in het derde deel weer terug te krijgen. In het tweede deel vernemen we meer over zijn verleden, een deel van zijn leven dat hij bewust zou willen vergeten, terwijl hij de herinneringen aan zijn jeugd echt verdrongen heeft. Als deel drie begint, zegt Robert:

'Dit het vierde feit dat jullie over mij moeten weten: ik hou dingen achter, ik pas het beeld van mezelf aan. (-) Dat zijn dingen waar ik niet over wil praten.'

En terwijl de lezer dan begint te twijfelen aan alles wat hij of zij tot hier toe gelezen heeft, blijft Lexa volhouden. Gelukkig maar. Zo wordt alles toch nog tot een keurige ontknoping gebracht.

'Wie zonder zonde is' is de tweede thriller van Bo Svernström. Zijn speurder is dezelfde, en er zijn dan ook wel wat privédingetjes die in het verhaal meegenomen worden, maar gelukkig niet al te veel. Het verhaal springt van de ene persoon naar de andere, en Svernström houdt zich ook niet aan chronologie. Boven de korte hoofdstukken staat wel een datum, en die kun je als lezer maar beter goed in de gaten houden.
Vol dramatiek en goed speurderswerk is 'Wie zonder zonde is' een vrij ingewikkeld maar toch goed te volgen verhaal, dat je meeneemt in een leesavontuur zoals we dat van bijvoorbeeld Elizabeth George kennen.

Bo Svernström (1964) heeft een PhD in Zweedse literatuur en heeft zelf lang voor Aftonbladet geschreven, een van de belangrijkste kranten van Zweden. Wie zint op wraak is Svernströms debuut.

ISBN 9789402704952 | paperback | 384 pagina's | Uitgeverij the House of the Books | april 2020
Vertaald uit het Zweeds door Edith Sybesma
© Marjo, 10 juni 2020
Lees de reacties op het forum en/of reageer, klik HIER