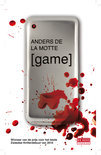 [game]
A.R.G. (Alternate Reality Game): deel een
Anders de la Motte

Henrik Petterson, ook wel HP genoemd, vindt het zijn lucky day als hij in de trein naar Stockholm een mobiele telefoon vindt, en de eigenaar is niet meer in beeld.
Hij zit altijd in geldnood, zijn beste – enige – vriend zit in de telefoonhandel, dus daar kan hij wel wat mee. Maar het is wel een vreemde telefoon: er staat een boodschap op voor hem zelf! "Wanna play a game Henrik Petterson?"
Hoe kan dat nou? Nieuwsgierig als hij is gaat hij mee in de aanwijzingen die hem gegeven worden en voor hij het weet zit hij tot over zijn oren in een of ander spel.
Zeker: iedere keer wordt hem de keuze geboden; hij kan nee zeggen, maar de verlokking naar erkenning voor zijn prestaties en bovendien het geld maken dat hij steeds ja zegt. Tot hij beseft dat er toch wel vreemde dingen van hem gevraagd worden! Als hij een aanslag moet plegen op een politiewagen waar zijn eigen zus in blijkt te zitten, begint hij na te denken.

Die zus is Rebecca Normen. Ze werkt bij een beveiligingsdienst, en is het tegenbeeld van haar broer: zij zorgt dat haar conditie en kracht op peil blijven, geld is geen verlokking, maar ze is wel dol op haar broertje. Ze hebben alleen elkaar, en delen een niet helemaal normaal verlopen verleden. Er is maar één vervelend iets: iemand laat briefjes achter die haar steeds herinneren aan dat verleden. Als Henrik haar vertelt waar hij mee bezig is, moeten er maatregelen genomen worden.
Wie of wat zit er achter het Spel? Gaat het om geld? Macht? Is het politiek?
Er vallen doden, en Henrik heeft al zijn vindingrijkheid nodig. En zijn zus.

Het is een boek dat vanaf het begin tot het einde boeit, en je nieuwsgierig maakt naar een tweede deel dat overigens al verschenen is. De tekst wordt doorspekt met Engelse termen, en is niet echt geschreven voor digibeten. Als je niet thuis bent met de terminologie rondom computers en telefoons, dan begrijp je er niet veel van.
Het verhaal wisselt steeds in soms hele korte hoofdstukken van Henrik naar Rebecca, er zijn een paar expliciete seksscènes, maar het is vooral de nieuwsgierigheid naar wat hier achter steekt dat je door doet lezen tot het uit is. Met een fraaie cliffhanger rondt Anders de la Motte het verhaal af.

Anders de la Motte (1971) werkte acht jaar als politieagent in Stockholm voordat hij veiligheidsfunctionaris op IT-gebied werd. Tegenwoordig is hij Security Manager bij Dell voor Europa, het Midden-Oosten en Afrika.
Het boek werd in 2010 verkozen tot beste Zweedse thrillerdebuut. [Buzz] en [Bubble] volgen.

ISBN 9789044519167 |paperback|349 pagina's |uitgeverij de Geus|mei 2012
Vertaald uit het Zweeds door Clementine Luijten
© Marjo, 1 september 2014
Lees de reacties op het forum en/of reageer, klik HIER