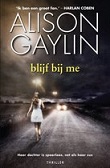 blijf bij me
Alison Gaylin

Al achtentwintig jaar denkt privédetective Brenna Spector dagelijks aan haar zus Clea, die op haar zeventiende spoorloos verdwenen is. Is Clea vrijwillig vertrokken of is haar iets gruwelijks overkomen? Brenna weet het niet. Ze probeert haar zus al jaren op te sporen maar elke nieuwe ontdekking heeft alleen maar tot meer vragen geleid. Het beheerst haar leven. De vele onbeantwoorde vragen slokken al haar aandacht op.

Brenna beschikt over een bijzondere gave, meer een vloek eigenlijk. Sinds haar elfde levensjaar lijdt ze aan de neurologische aandoening hyperthymesia. Brenna beschikt over een onfeilbaar geheugen. Ze is letterlijk niet in staat om wie of wat dan ook te vergeten. Alles wat ze sindsdien heeft meegemaakt, staat in haar geheugen gegrift. Ook al haar zintuigen doen mee. Voor een privédetective is het handig om alles te kunnen onthouden maar Brenna's privéleven lijdt er ernstig onder. Brenna wordt regelmatig door het verleden opgeslokt. Ze vermoedt dat haar grote liefde Jim, de vader van haar dertienjarige dochter Maya, daarom bij haar weg te gegaan.

Ook Maya heeft regelmatig moeite met de aandoening van haar moeder. Het meisje heeft vaak het gevoel dat ze met het verleden moet wedijveren. Keer op keer ziet ze met lede ogen toe hoe haar moeder door een van haar vele herinneringen overrompeld wordt. Brenna wordt dan als het ware door het verleden overspoeld waardoor ze het contact met de werkelijkheid korte tijd verliest. Maya houdt van haar moeder maar ze haat de hyperthymesia. Ook heeft ze stiekem een hekel aan Clea, die in haar ogen te veel aandacht van haar moeder opeist. Bovendien ziet ze dat het haar moeder verdriet doet om aan Clea te denken.

Even leek Clea heel dichtbij. Niets was minder waar. Een onbekende drong uiteindelijk het appartement van Brenna en Maya binnen, zwaaide met een mes en dreigde hen wat aan te doen. Sindsdien maakt Brenna zich grote zorgen om haar dochter. Maya lijkt niet getraumatiseerd te zijn maar toch houdt Brenna haar met argusogen in de gaten.

Dan slokt de zoektocht naar Clea Brenna opnieuw op. Een onbekende heeft een tas voor haar afgeven. De inhoud van de tas is ronduit schokkend. Bovendien heeft Brenna een onthutsende ontdekking over haar ouders gedaan. Haar moeder heeft haar en Clea altijd verteld dat hun vader met de noorderzon was vertrokken. Volgens het politierapport dat Brenna's vriend Nick Morasco, een politieman, heeft bemachtigd, is er echter iets heel anders gebeurd. Waarom heeft haar moeder gelogen? Kan ze haar ooit nog wel vertrouwen?

Arme Maya, het lieve en bescheiden meisje eist zo weinig aandacht op dat niemand doorheeft dat ze door emoties overmand wordt. Voor het eerst in haar leven is Maya verliefd. Op Miles. Miles heeft echter al verkering met de populaire Lindsay Segal, die een paar jaar ouder is. Wanneer Lindsay en haar vriendinnen vriendschap met haar sluiten, kan Maya haar geluk niet op. Maya wordt zelfs uitgenodigd voor een logeerpartijtje. Vol enthousiasme vertrekt ze naar het appartement van Lindsay. Het blijkt een valstrik te zijn. Maya wordt dronken gevoerd en volledig belachelijk gemaakt. Tot overmaat van ramp hebben Lindsay en haar vriendinnen alles opgenomen. Zelfs Miles maakte deel van het plan uit. Maya is het appartement volkomen overstuur uitgestormd. Sindsdien heeft niemand haar meer gezien. Maya is spoorloos verdwenen, net als Clea. Herhaalt de geschiedenis zich?

blijf bij me is het derde, en laatste, deel van de Brenna Spector-trilogie. Ik raad aan bij het eerste deel, en ze was, te beginnen. In dit boek gaat de schrijfster verder waar ze was gebleven. Het verhaal leest als een trein en omdat de ontknoping binnen handbereik is, kon ik het boek niet meer wegleggen.

De verdwijning van Clea doet denken aan een puzzel waarvan een aantal puzzelstukken ontbreken. In blijf bij me krijgt Brenna eindelijk de laatste puzzelstukken in handen. De puzzel kan voltooid worden maar zal het plaatje dat verschijnt wel aan Brenna's verwachtingen voldoen? De nieuwsgierigheid van de lezer wordt doorlopend geprikkeld.

Helaas moet ik nu afscheid van Brenna Spector en haar bijzondere vriendenschare nemen. Zal het de auteur lukken om opnieuw een indrukwekkend personage te bedenken? Ik heb er alle vertrouwen in en verheug me nu al op het volgende boek van deze begenadigde thrillerschrijfster. Alison Gaylin weet hoe ze de aandacht van de lezer moet trekken én moet vasthouden!

ISBN 9789022575406 | paperback | 335 pagina's | Boekerij | augustus 2016
Vertaald door Harmien Robroch
© Annemarie, 29 augustus 2016
Lees de reacties op het forum en/of reageer, klik HIER