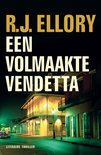 Een volmaakte vendetta
Roger Jon Ellory

'Een stil geloof in engelen' was dé thriller van 2009. Liefhebbers kijken natuurlijk uit naar een opvolger van dat ongelooflijk mooie en spannende boek, maar laat ik maar meteen zeggen dat 'een volmaakte vendetta' dat niet is. Dit boek is een voorganger, maar verschijnt pas nu in vertaling. De vraag is dus: is er een reden dat Ellory niet eerder boven het maaiveld is uitgestegen? Waren zijn eerdere boeken niet goed genoeg om te vertalen? 'Een stil geloof...' was zijn vijfde boek. 'Een volmaakte vendetta' zijn derde.
Het duurt even voor je in dit verhaal komt, omdat Ellory een vrij lange inleiding heeft geschreven. Aanvankelijk dacht ik dan ook dat ik moest gaan zeggen dat deze voorganger niet zo goed was.
Maar nu het boek uit is ga ik dat niet zeggen. Na een wat langdradige inleiding wordt het boek reuze spannend en boeiend. Dan komt het dicht in de buurt van de kracht van 'Een stil geloof...'.

Het verhaal gaat over de maffia in Amerika. Het is een raamvertelling. Er wordt een man gevonden in de kofferbak van een luxe auto, gruwelijk toegetakeld. Hij is, was, de bodyguard van de dochter van een senator. Zij is nergens te vinden, maar niemand meldt zich voor losgeld. Wie zich wel meldt is Ernesto Perez. Hij zegt de ontvoerder te zijn, maar weigert te vertellen waar ze is, of wat hij in ruil wil. Hij eist dat ene Ray Hartman uit New York geroepen wordt. Alleen aan hem, en ook alleen op zijn eigen manier wil hij het verhaal van zijn leven vertellen. Aan het einde zal hij laten weten waar het meisje is.
Dan lezen we hoe hij opgroeide in de naargeestige wetlands van New Orleans, en via Cuba, New York, Las Vegas en Los Angeles weer terugkwam, een lange reeks doden achter zich latend.
Hartmann wil eigenlijk helemaal niet daar in dat hotel zitten met die man, die een gewetenloze moordenaar is, hij wil naar zijn vrouw en dochter in New York. Zijn huwelijk dreigt stuk te lopen, en nu zit hij hier vast. Maar hij moet. Het is zijn werk. En Perez blijft dagenlang vertellen.

Het verhaal is geen who-did-it, het is het verhaal van een man die tot het besef komt dat er meer in het leven is dan macht en geld. Meer dan moord en wraak. Dat heeft hij gemeen met Hartmann, maar waarom hij speciaal om hem gevraagd heeft, lezen we pas na zo'n 500 pagina's.
Het is een hard boek, Ellory schuwt de details niet. Maar ook schetst hij de politieke achtergrond, van na de jaren vijftig. Hij vertelt over Cuba en Castro, het jaar 1963 met de machtstrijd tussen de Sovjet-Unie en de Verenigde staten; over de opkomst van Las Vegas. Terwijl de man vertelt zit de FBI ook niet stil, maar wie de touwtjes in handen heeft, dat is geen verrassing.

'Dit leven... Deze zaak van ons, dat is niet iets wat je achter je kunt laten, Ernesto. Je maakt je keuzes, je doet van je spreken en krijgt een zekere naam en die naam zal je altijd aankleven. Je hebt gekozen voor het
leven dat je hebt geleid en hoewel er altijd dingen zullen zijn waar een man spijt van heeft, denkt alleen een domme man dat hij ongedaan kan maken wat hij is, wat hij is geworden ten gevolge van zijn daden. (-) We worden afgeschilderd als een bende boeven, stompzinnige criminelen in zijden kostuums die moorden om niks. We worden beschouwd als gemene en onredelijke mannen, zonder hart, maar niets is meer bezijden de waarheid. Vaker wel dan niet zijn mensen gestorven omdat het een kwestie van leven of dood was. Het was jij of zij. En dan is er nog de kwestie van eer en afspraken. Mannen beloven iets en zweren op het leven van hun familie, en dan verraden ze niet alleen de mensen aan wie ze de belofte hebben gedaan, maar ookzichzelf. Dat is het soort mannen dat sterft, en die mannen verdienen niet beter.'

Een thriller over vriendschap en verraad. Over macht en liefde. Over de worsteling van mensen met al deze zaken. De ietwat langdradige manier van schrijven wordt Ellory vergeven, omdat ik al weet dat hij beter kan.

Isbn 978 90 261 2703 8 Paperback 541 pagina's | de Fontein | februari 2010
'a quiet vendetta' Vertaald door Ineke van de Elskamp

© Marjo, maart 2010
Lees de reacties op het forum en/of reageer, klik HIER