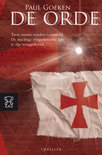 De orde
Paul Goeken
De achterflap : Op vrijdag 13 oktober wordt in Granada imam Kamal Shoukri vermoord. Op zijn lichaam wordt een kleine, witte lap gevonden met in het midden een rood kruis. Drie dagen later vindt er weer een executie van een imam plaats, ditmaal in Barcelona. Ook nu treft men op het lichaam weer dezelfde merkwaardige relikwie aan.
De aanslagen veroorzaken grote onrust in Spanje. De link met de lang vergeten Tempeliersorde wordt gelegd en de pers ruikt sensatie. Alfonso Silva van de elite-eenheid Nueve krijgt de taak 'de Tempelridder', zoals de moordenaar is gedoopt, te vinden. Maar terwijl Silva samen met Carmen Marrero, de eerste vrouw die is doorgedrongen tot Nueve, de jacht op de Tempelridder opent, ontwikkelt zich in de politieke arena een ander gevaar. De jonge, charismatische politicus Miquel Medina begint steeds populairder te worden onder de bevolking. De idealen die hij koestert zijn echter regelrecht afkomstig uit een van de zwartste periodes in de geschiedenis van Spanje. De tijden van dictator Franco lijken terug te keren...
Einde flaptekst

Mede door het feit dat ik Paul Goeken 'ken' van het Crimezone-Forum en dat het boek on-Nederlands heet te zijn, alsook de enthousiaste commentaren van verschillende mensen op datzelfde forum, maakten dat ik meedeed aan de wedstrijd die Uitgeverij Bruna uitschreef om 'De Orde' te winnen. Mijn geluk was dan ook groot toen dit boek enkele weken later door de postbode werd afgeleverd. Toch bleef het nog enige tijd ongelezen in mijn boekenrek staan. De twijfel om het te gaan lezen bleef ergens sluimeren. En terecht blijkbaar...
Ondanks het redelijk goed begin van het verhaal, kon het mij totaal niet boeien, het 'pakt' niet.

Centraal in het boek staat de spanning in Spanje tussen autochtonen en allochtonen, een heet hangijzer dat heel Europa beheerst trouwens en daarom erg actueel is. Een gedroomd onderwerp voor een spannend boek, maar Goeken breidt naar mijn smaak teveel uit, met lange zinnen en horden personages waar ik op de duur niet wijs meer uit raakte.
Van spanning is er totaal geen sprake, het duurt zelfs tot over de helft van het boek eer de eerste imam vermoord wordt en dat wordt dan als een 'faits divers' verteld, heel raar vind ik dat. Telkens als je dan denkt : nu gaat het beginnen, gaat de vaart er weer uit. Het lijkt wel of er met ieder hoofdstuk een ander verhaal begint. 'De Orde' was voor mij een kwelling om door te komen. Ik heb voor het einde afgehaakt, geen Goeken meer voor mij.

Over de auteur:
Paul Goeken (1962) is Nederlander en emigreerde in 1999 met zijn gezin naar Gran Canaria, nadat hij zijn zwem-en duikschool verkocht. Hij debuteerde in 2002 met 'Hammerhead' waarin zijn passie voor de duiksport, net als in al zijn volgende boeken duidelijk naar voor komt. Net zoals zijn hoofdpersonage in de serie, Alfonso Silva, is hij PADI Master Instructor(Professional Association of Diving Instructors). Goeken heeft gedurende zijn carrière honderden leerlingen gebrevetteerd en duizenden duiken gemaakt.

Uitgever Bruna Uitgevers, A.W. ISBN 902298995X Bindwijze Paperback Verschijningsdatum oktober 2005 Aantal pagina's 307 blz.
© Christine, januari 2006