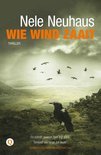 Wie wind zaait
Deel 5 van de reeks over Pia Kirchhoff en Oliver von Bodenstein
Nele Neuhaus

Een ecologische thriller, waarin alles draait om hebzucht. Waar de wetenschap waarschuwt voor de opwarming van de aarde met het advies dat er maatregelen genomen moeten worden, verwacht je dat idealisten er voor gaan, mensen die er hun levenswerk van maken om een betere wereld te maken.
Maar als de overheid geld moet uitgeven aan die maatregelen, blijken er maar al te veel kapers op de kust. Ineens blijken gegevens vervalst kunnen worden, zodat er projecten uitgevoerd gaan worden die helemaal niet voor een beter milieu zullen zorgen. Geld, alles draait om geld.
Dat is een beetje de achtergrond van dit boek, maar het draait veel meer om de mens zelf, egoïst als die is en zal zijn. Nele Neuhaus heeft geen hoge pet op van de mens.


Het verhaal begint met een dode nachtwaker. Hij is werknemer bij Wind Pro, een bedrijf dat windmolenparken bouwt. Het project waar ze nu mee bezig zijn verloopt niet vlotjes: er moet een weiland aangekocht worden dat in bezit is van een koppige boer. Hij is lid van een actiecomité dat fel tegen het windmolenpark is en wijkt zelfs niet voor drie miljoen euro!Dan is er nog een groepering die geheime informatie beweert te hebben dat er gesjoemeld is met de gegevens op grond waarvan dit park gebouwd zal moeten worden.
Als ook de boer vermoord wordt, raakt Pia Kirchoff verwikkeld in een zaak die haar verwart. Niemand is degene voor wie hij/zij zich voordoet. Zelfs haar chef, Bodenstein, krijgt vreemde kuren. Of dit ingewikkelde plot ontrafeld kan worden?

Het duurt even voor je precies weet waar het allemaal over gaat. Je krijgt als lezer verschillende verhalen voorgeschoteld, zodat je weet waar Kirchoff een goed of een foute conclusie trekt, maar toch weet je pas tegen het einde dat het vermoeden dat allang bij je gerezen is, waar blijkt. Het zit alleen net weer even anders dan je dacht. Ook zijn er cursieve stukjes, die pas later op hun plaats vallen. Al hoop ik dat ze haar volgende boek iets minder ingewikkeld maakt, ze beschrijft de mens wel zoals hij is. Iedereen heeft een Januskop, en niemand is wat hij lijkt. Zelfs een onschuldige tiener niet.

ISBN 9789021449999| paperback | 392 pagina's| Uitgeverij Q | oktober 2013
Vertaald door Sander Hoving
© Marjo, 6 januari 2014
Lees de reacties op het forum en/of reageer, klik HIER