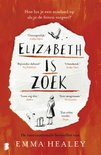 Elizabeth is zoek
Emma Healey

De tweeëntachtigjarige Maud maakt zich zorgen. Ze heeft haar beste vriendin Elizabeth al een tijdje niet gezien. Tegen wie het maar horen wil, vertelt ze dat Elizabeth zoek is. Niemand neemt haar serieus. De vreemde vrouwen die steeds maar in haar huis opduiken, zuchten diep als ze weer over Elizabeth begint. Wat doen al die mensen toch in haar huis en waar is Elizabeth? Ze is zoek. Elizabeth is zoek.

Maud vergeet de laatste tijd dingen. Dat heeft ze zelf niet door. Ze snapt niet waarom de supermarktmedewerker vraagt of ze echt nog meer blikken voedsel nodig heeft. Ze snapt niet waarom de vreemdelingen in haar huis zeggen dat ze te veel eet. En wat is iedereen toch slordig! Overal staan koude kopjes thee. Wie doet dat toch? Haar dochter Helen beweert dat ze elke dag komt maar Maud weet zeker dat ze haar dochter nauwelijks ziet. Waarom zucht Helen toch steeds zo. Waarom wordt ze boos als Maud naar Elizabeth vraagt? En dan weet Maud het weer: Elizabeth is zoek.

Maud doet er alles aan om Elizabeth te vinden. Omdat alles de laatste tijd zo wazig is, schrijft ze Elizabeths naam op allerlei briefjes. De briefjes duiken overal op en dan weet Maud het weer: Elizabeth is zoek. Maud merkt dat het huis van Elizabeth steeds leger wordt. Steelt iemand haar spullen? Waarom beseft niemand dat de situatie ernstig is? Elizabeth is zoek! Maud gaat naar de politie maar ook die neemt haar niet serieus. Ze beweren bovendien dat ze al vaker op het politiebureau is geweest. Maud voelt zich eenzaam en onbegrepen. Ze mist haar lieve vriendin. Ze is vastbesloten haar zoektocht niet op te geven, ook al zijn haar dagen in nevelen gehuld.

De laatste tijd moet Maud ook steeds aan haar zus Sukey denken. Dan vergeet Maud even dat ze al oud is en verliest ze zichzelf in het verleden. Sukey is zeventig jaar geleden verdwenen. Maud weet nog precies hoe het was. Het was kort na de oorlog. Ondanks de schaarste zag Sukey er altijd prachtig uit. Haar echtgenoot Frank regelde allerlei extra's voor haar. Maud was nog maar een meisje. Een klungelig meisje. Ze bewonderde haar zus. Sukey bewoog zich gracieus en leek de hele wereld aan te kunnen. Toch verdween ze. Is haar iets overkomen of is ze weggegaan om een nieuw leven te beginnen? Ook Elizabeth is weg, beseft Maud ineens. Ze moet haar zoeken. Misschien kan ze naar het politiebureau gaan.

Dit bijzondere boek bestaat deels uit een detectiveverhaal en deels uit het portret van een vrouw die aan de ziekte van Alzheimer lijdt. De wereld wordt steeds onbegrijpelijker voor Maud. Ze vergeet vaak waar ze is en wat ze zojuist gedaan heeft. Ook schrikt ze steeds van de aanwezigheid van anderen in haar huis. Dan hoort ze ineens boven een raar geluid en raakt ze in paniek. Ze is dan vergeten dat de huishoudelijke hulp aan het stofzuigen is. Dat er überhaupt iemand in haar huis is. Wat Maud maar niet kan vergeten, is dat Elizabeth zoek is. Ze beseft niet dat ze haar omgeving tot wanhoop drijft.

Een ander deel van het boek gaat over Mauds jeugd. Maud herinnert zich haar jeugd nog haarscherp. Haar herinneringen doorbreken de waas waarin ze vandaag de dag leeft. Soms op de vreemdste momenten. Haar geest speelt een spelletje met haar. Lukt het Maud om de twee mysteries die haar leven beheersen te ontrafelen? Onder welke omstandigheden is Sukey precies verdwenen en… waar is Elizabeth?

Schrijfster Emma Healey heeft het gemis en de verwarring waar Maud mee worstelt, heel treffend en vol gevoel beschreven. Een grapje her en der, gemaakt door Mauds kleindochter, zorgt ervoor dat de vertelling niet te zwaar wordt. Tussen de regels door komt het verhaal van Helen, de dochter van Maud, aan bod. Helen durft haar moeder, die haar vaak niet eens herkent, nauwelijks alleen te laten. Wat moet Helen in angst zitten als Maud weer eens naar buiten is gegaan om vervolgens hopeloos te verdwalen!

Elizabeth is zoek is het debuut van Emma Healey. Het boek verscheen eerder onder de titel Ze is zoek. Dit bijzondere detectiveverhaal heeft me geraakt. Het is mysterieus, aangrijpend en liefdevol.
ISBN 9789022576526 | paperback | 333 pagina's| Boekerij | maart 2015
Vertaald door Mechteld Jansen
© Annemarie, 29 maart 2016
Lees de reacties op het forum en/of reageer, klik HIER