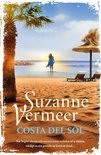 Costa del Sol
Suzanne Vermeer

Alexandro Sanchez is taxichauffeur. Als er een speciale oproep bij het bedrijf komt, specifiek voor hem, stelt hij zich op bij het Centraal Station in Amsterdam. Het duurt lang, maar dan trekt een persoon in een boerka het achterportier open. Er worden Alex enkele woorden toegebeten. 'Alex está en peligro. Un hijo por un padre.' (Alex is in gevaar. Een zoon voor een vader') Zijn rustige leventje was voorbij, wist hij. Achterhaald door het verleden, zal hij nooit meer met gerust hart zijn vrouw en kinderen alleen thuis achter kunnen laten. Het brengt hem zo van zijn stuk dat hij terwijl hij zich naar huis haast, vanachter het stuur een sms verstuurt. Het wordt hem fataal. Zijn vrouw Eline krijgt de vreselijke boodschap dat ze verder als weduwe door het leven zal moeten. Maar er is nog iemand die deze boodschap krijgt: Sara Verbeek, journalist.

De levens van deze vrouwen worden verder verbonden als Eline een jaar later besluit om naar Spanje te gaan met haar kinderen. Om afscheid te nemen van het verleden. Om een nieuw leven te kunnen beginnen. Na een kort verblijf bij de ouders van Alexandro, zullen ze hun vakantie doorbrengen aan de Costa el Sol. Maar het bezoek van Sara gooit roet in het eten. Eline vertrekt met vragen voor haar schoonouders. En de antwoorden - of het gebrek er aan - zullen hun leventje danig in de war schoppen.

Ook al duurt het lang voor duidelijk wordt wat er allemaal aan de hand is, is er vanaf het begin een spanning in het verhaal. Na het eerste hoofdstuk wil je immers weten wat er aan de hand was. Wie was die onbekende, en wat betekenen die woorden? Het wordt levensgevaarlijk voor de twee vrouwen en hun kinderen...

Ook dit boek dat sinds de dood van Paul Goeken door een geheimzinnige auteur geschreven wordt onder de naam Suzanne Vermeer, is weer een spannend lekker verhaal, heerlijk voor op het strand, Spaans of anderszins, maar natuurlijk hapt het net zo lekker weg in je luie stoel.
Prettig korte hoofdstukken, en een vlot lopende stijl. Lekker vakantieboek!

ISBN 9789400504899 |Paperback |320 pagina's |Uitgeverij Bruna| mei 2015
© Marjo, 25 mei 2015
Lees de reacties op het forum en/of reageer, klik HIER
---