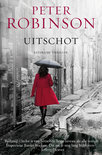 Uitschot
Peter Robinson
In dit nieuwe boek van Peter Robinson met inspecteur Alan Banks in de hoofdrol lopen, nog meer dan in de vorige boeken, werk- en privéleven van Banks naadloos in elkaar over omdat het slachtoffer nu zijn dochter Tracy is.

Het begint allemaal vrij rustig. Banks is na zijn laatste opdracht op vakantie in Amerika, waar hij geniet van de rust en de omgeving. Op zijn werk vraagt een vroegere buurvrouw naar hem en Annie Cabbot, Banks' rechterhand, neemt de honneurs waar. De buurvrouw vertelt dat haar dochter Erin een pistool in huis heeft gehaald en ze weten niet wat ze nu moeten doen. Wanneer een arrestatieteam naar het huis van de buurvrouw wordt gestuurd om te zien wat er precies aan de hand is, loopt de actie gigantisch uit de klauwen met als bitter dieptepunt de gijzeling van Tracy door Jaff McCready, de psychopatische vriend van Erin.
Op dat moment komt Alan Banks terug van vakantie. Wat kan hij doen om zijn dochter vrij te krijgen?
Na het rustige begin racet het verhaal met hartslagverhogende vaart en spanning naar het einde. Weet Banks het pleit in zijn voordeel te beslechten of is McCready in staat hem te slim af te zijn? Tot op het eind kan het balletje alle kanten op rollen.

Peter Robinson's boeken worden alleen maar steeds beter. Uitschot is weer een voltreffer wat mij betreft. Bij ieder nieuw boek is het of je oude bekenden tegenkomt met wie je weer even bijpraat en ondertussen krijg je ook nog een prima thriller voorgeschoteld.
En Peter Robinson ziet kans om steeds weer nieuwe elementen aan de hoofdpersonen toe te voegen, waardoor ze levendig en interessant blijven en er geen 'slijtage' optreedt. Banks kan wat mij betreft nog wel even mee!

Trouw schrijft op de achterkant: 'Smaakt naar heel veel meer.' En zo is het!

ISBN: 9789022999264 Paperback, 331 pagina's | A.W. Bruna Uitgevers | mei 2011
Vertaling: Valérie Janssen
© Joanazinha, 23 mei 2011
Lees de reacties op het forum en/of reageer, klik HIER
---