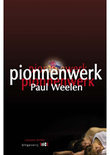 Pionnenwerk
Paul Weelen

De vijftigjarige Jo Klawitter is spion. Voor zijn nieuwe opdracht keert hij terug naar zijn geboortegrond Limburg. Hij zal zijn intrek nemen in een huisje in een Maastrichtse volksbuurt. Zijn taak om is te infiltreren. Om op te gaan in de omgeving en zo achter waardevolle informatie te komen. Men vermoedt namelijk dat er iets gaande is in het mooie Limburg. Dat er groeperingen zijn die willen dat Limburg zich afscheidt van de rest van Nederland. En dat dit tot criminele en gevaarlijke toestanden kan gaan leiden.

Direct na Jo's aankomst in Maastricht is er een ontploffing op het station. Het wordt afgedaan als een knullig ongeluk maar in werkelijkheid is het een aanslag. Er lijkt daadwerkelijk iets aan de hand te zijn. Jo infiltreert in allerlei verenigingen en clubs en speurt naar tekenen die kunnen wijzen op mogelijk onraad. Zo is er een jongerenclub wiens survival-weekenden ook wel eens regelrechte trainingsmissies zouden kunnen zijn. Verder ontdekt Jo een Limburggezinde motorbende die wapens in zijn bezit heeft. Maar zijn de wapens bestemd om aanslagen te plegen of is het omdat de bende zich met drugshandel bezighoudt? Ook ontfermd hij zich over een jong meisje dat zich met de verkeerde mensen ophoudt. De verantwoording die hij voor het meisje voelt zal nog zwaar op hem gaan drukken.

Soms twijfelt Jo aan zijn missie. Is er wel sprake van een Limburgs bevrijdingsleger? Is er een reële kans op een grote aanslag? Er zijn wel verenigingen die zich bezig houden met het intact houden van de Limburgse taal en cultuur maar moeten deze daadwerkelijk als mogelijk risico worden bestempeld? Is het allemaal niet wat overdreven? En ach, misschien wordt Jo wel te oud voor het werk. Is hij niet meer zo scherp als vroeger.


Terwijl Jo ploetert om zijn missie tot een goed einde te brengen krijgt de lezer terugblikken voorgeschoteld. Zo wordt uit de doeken gedaan hoe Jo als spion is gerekruteerd en aan welke missies hij heeft meegewerkt.


In dit boek zijn het Limburgers die streven naar onafhankelijkheid maar wereldwijd is dit natuurlijk een veel terugkerend thema. Het is verfrissend om het eens in deze vorm beschreven te zien.


Het is met dit boek een beetje als met nieuwe schoenen. Na het inlopen wordt het comfortabel. In het begin twijfelde ik of dit boek me wel zou gaan bevallen maar het verhaal ging me steeds meer aanstaan. Toegegeven, extreem spannend is het allemaal niet maar toch is dit een heel aardig boek. Anders dan anders. En dat bevalt me wel.


ISBN 9789078407898| Paperback | 240 pagina's| Uitgeverij TIC | oktober 2011
© Annemarie, 25 oktober 2011
Lees de reacties op het forum en/of reageer, klik HIER
---