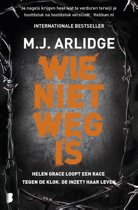 Wie niet weg is
Deel 6 van de Helen Grace-reeks
M.J. Arligdge
Helen Grace, die we al kennen van de voorgaande boeken, zit in de gevangenis in afwachting van haar proces. Waarom ze daar terecht is gekomen, valt te lezen in 'Naar bed, naar bed'.

Haar meerderen zijn ervan overtuigd dat Helen schuldig is en zijn van mening dat ze een schandvlek voor het korps was, waar ze nu eindelijk van af zijn. Weliswaar behaalde Helen het gewenste resultaat, maar ze heeft daarbij wel de nodige vijanden gemaakt. Een daarvan is journaliste Emilia Garanita, de Nemesis van Helen, die haar alleen ziet als een middel om de roem te krijgen, waarvan ze vindt dat ze die verdient. Of Helen schuldig is of niet, doet voor haar niet ter zake. Een moordende rechercheur verkoopt en met Helen in de gevangenis die ze bij voorkeur vernedert, heeft zij haar wraak.

Alleen Charlie is overtuigd van de onschuld van Helen en gelooft haar verhaal. Ze zoekt dus naar de man, die volgens Helen verantwoordelijk is voor de moorden waar zij van beschuldigd is. Haar meerderen zijn het daar niet mee eens. Voor hen is de zaak afgerond en moet Charlie gewoon haar werk doen en niet zoeken naar een spook. De man die Charlie zoekt bestaat weliswaar, maar is hooguit een kleine crimineel en niet de moordenaar.

Voor een rechercheur is de gevangenis natuurlijk geen aangename plek. Dat is het vanzelfsprekend voor niemand, maar als voormalig rechercheur komt Helen ook vrouwen tegen die ze zelf achter de tralies heeft helpen krijgen. Één daarvan is de racistische Alexis, die vast zit voor een aantal brute racistische mishandelingen. Alexis wil wraak nemen op Helen. Gelukkig heeft Helen ook een paar vriendinnen gevonden onder de gevangenen.

Maar dan wordt er een gevangene in de cel naast die van Helen, vermoord en op gruwelijke wijze verminkt. Er loopt dus een moordenaar rond en Helen vreest voor haar leven. Haar enige kans is zelf de dader vinden. In de gevangenis zijn genoeg mensen die denken dat Helen ook deze moord op haar geweten heeft. Dit betekent natuurlijk wel dat ze dingen moet doen, die ze helemaal niet mag als gevangene. Er lopen genoeg verdachte personen rond, zoals de sadistische bewaker Cameron Cambell.

Het feit dat zowel Charlie, als Helen allerlei regels overtreden, maakt het boek extra spannend. Er is namelijk niet alleen de spanning van de jacht op de moordenaars, maar ook de spanning of Charlie er in slaagt om haar meerderen van haar gelijk te overtuigen en dat ze niet ontslagen wordt in verband met het negeren van orders van haar meerderen. En natuurlijk de spanning of Helen er in slaagt om de dader te vinden, zonder dat ze zelf vermoord wordt. Helen heeft natuurlijk helemaal geen back-up. Ze is geen rechercheur meer en heeft niemand achter zich staan, met uitzondering van Charlie, die geconcentreerd is op het bewijzen van de onschuld van Helen...

ISBN 97822582206 | Paperback | 396 pagina's | NUR 330 | De Boekerij | november 2017
Vertaling Harmien Robroch
© Renate, 14 juli 2018
Lees de reacties op het forum en/of reageer, klik HIER